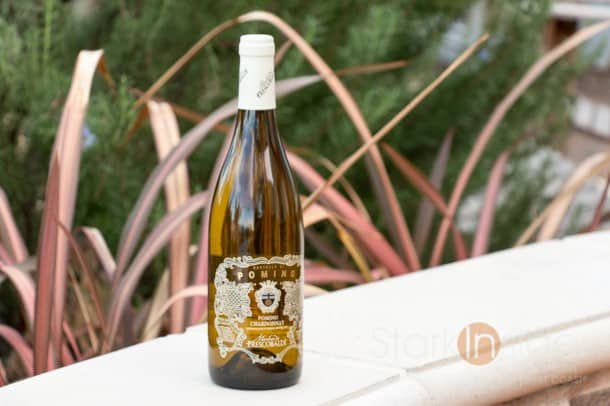 Looking for a change-up from the traditional Northern California Chardonnay? Here's a good one from Tuscany that won't break the bank, but give your wine rotation a flavorful addition.
This 2012 hails from Castello di Pomino — 128 acres, located in the Northern part of Italy in Florence.
During fermentation (and maturation) it spends most of its time primarily in stainless steel barrels (75%) which means the oak is dialed down. The result is what I'd call a clean, slightly acidic wine, with a smooth, mineral-centric finish. In other words: modern. And without that cloying butter-heavy mouthfeel you might get from the full-bodied Chards – haven't they been kicked to the curb already, at least for a few years?
Slightly floral on the nose, reminiscent almost of a Sauvignon Blanc. Apple, pomegranate with plenty of stony minerality on the finish (note: not of the Reality Bites variety).
Through 2013 I was on a real Chardonnay tear; tasting everything (again and again) I could get my hands on from Napa, Sonoma and Livermore. It doesn't take long to recognize the flavor profile that emerges from these places. Call it "terroir" or style or maybe just call it California wine, after tasting hundreds of the whites from the same general area I've come to recognize its character (I love it). Throw in a New World change-up, be it from Argentina, Chile, Australia, or one from a storied region, such as the case here with this Pomino from Italy, and you soon realize the extent at which winemakers can shape the Chardonnay style. For example, the alcohol on this wine comes in at a lightweight 12.5%. It's a welcome change – there's balance, but not in service of flavor.
Pomino 2012 Chardonnay

Castello di Pomino, Pomino, Rùfina, Italy

Imported by Folio Fine Wine Partners, Michael Mondavi Family

75% stainless, 25% French oak

12.5% alc.

$20