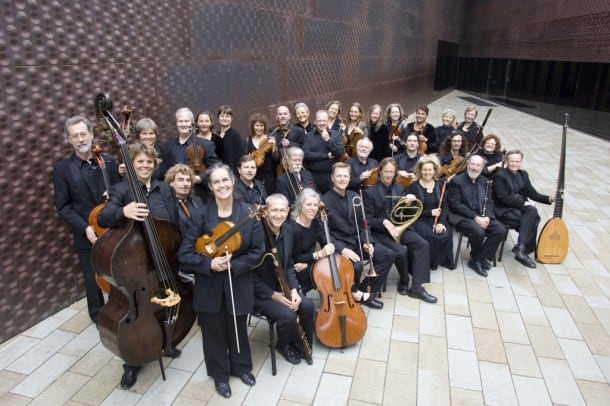 Even if you cringe at It's a Wonderful Life, Christmas Carol, and Nutcracker, and approach the shopping malls with earplugs in firmly inserted to prevent the penetration of the omnipresent "ba-rump-a-bump-bum," one exception you want to make is Handel's Messiah, especially if performed by the Philharmonia Baroque Orchestra. With a libretto more fitting for Easter  (this work was first performed in April, 1742 – and again a year later), this work has a depth and majesty all its own, and offers a complexity that gets further unpacked with every performance.
Having been bowled over by PBO's performance of the Messiah in 2010, I looked forward to the current performance. However, if you're a newcomer to the PBO, you may want to back them at one of their other venues because the acoustics of the Zellerbach just don't do justice to their magical sound. This music was written for smaller places, not great halls like the Zellerbach. That said, the full orchestra and chorus were more than up to the evening's task, as were soprano Yulia Van Doren, countertenor Jay Carter, tenor Lawrence Wiliford and bass-baritone Philip Cutlip.
Of note in part three was the orchestra's treatment of the chorus "Since by man came death."
The first part of librettist Charles Jennens' three part work draws almost exclusively from Old Testament prophecies of a messiah. Only at the very end of this act, does the score briefly draw from Luke and Matthew, as the fulfillment of these prophecies. I confess, I spent the better part of this section getting used to how the PBO sounded in this different venue. Despite this, one could not help being blown away by the PBO Chorus's treatment of the "And he shall purify" section from Malachi and "For unto us a child is born" passage from Isaiah.
However, by the second part of the work, I could better appreciate the four guest singers. Jay Carter proved his worth in his treatment of the "He was despised and rejected of men" air. This passage tests the mettle of many a countertenor. It's one thing to sing high and entirely another to sing warm; Carter delivered perfectly, introducing just the right amount of vibrato to this intensely emotional air. He was aided by the violin section, which brought an edgy tension to this air.
The firm voice of tenor Lawrence Wiliford also shone in part two. Wiliford's nuanced theatricality and powerful voice made his portions – none of which normally stand out – some of the more memorable sections of this Messiah.
Yulia Van Doren's long dress unfortunately distracted from her otherwise mellifluous performance. However, she came through with an exquisite "I know my Redeemer liveth" in the third part, which is one of the signal airs in the entire work.
This second part closes with the well-known Halleluiah Chorus. Curiously, only about a tenth of the audience stood up in their seats for this chorus, as is often customary. Perhaps this can be attributed to the relative youth of this Berkeley audience or the unfamiliarity of many in the audience with the totality of this work. This may be a good thing, showing that more people were introduced this spirited performance. "Spirited" is also an excellent characterization of the "All we like sheep" chorus.
Of note in part three was the orchestra's treatment of the chorus "Since by man came death."  This passage, which I confess, I never found particularly interesting, was enlivened by the orchestra's handling of dynamics which went from very soft at the outset, to startlingly loud. Like much baroque music, Handel rarely used dynamic markings in his texts, indicating how loud passages should be played. The orchestra's treatment of this passaged breathed new life into it.
Also of note, was the stellar Philip Cutlip.  Cutlip is a world-class talent, whose deep voice has an unexpected range. Expressive and strong, his voice worked well, even over the trumpets in the "The Trumpet shall sound" air.
Hopefully, the PBO will return next year with another performance of this work.