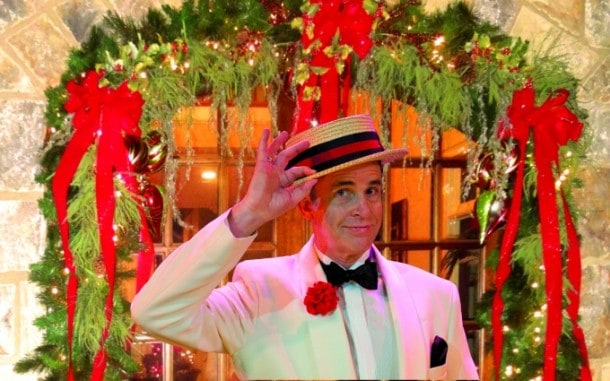 After a lifetime of Christmas saturation, you might find yourself in a place where the "Nutcracker," "A Christmas Carol," "It's a Wonderful Life," and all their progeny have gone stale. You and everyone you know already have too much stuff so the metallic red, green and gold tschotkes in the shops seem cheap indeed. The inescapable Christmas songs are  symptomatic of the whole problem. You're not looking for the Miracle on 34thStreet; you're looking for a miracle. It's not so much you've turned Scrooge, but you want Christmas itself, not the trappings. If you reach this point, you're ready for a truly adult Christmas with Craig Jessup.
I'm speaking of Craig Jessup, SF cabaret singer and pianist, not Craig Jessop, former music director of the Mormon Tabernacle Choir.  Despite being a San Francisco fixture through the '70's and '80's, Jessup was unknown to me, which makes finding him all the more special. The Aurora Theatre in Berkeley is hosting him through December 22nd. If you're suffering from Christmas ennui, his cabaret style performance will get you through the seasonally synthetic Yule log by the fake fire.
In addition to a handful of Sondheim songs, Jessup's program offers up some Jacques Brel, some Rodgers and Hart, some Gershwin, some of his own material, and a particularly delightful cluster of Noel Coward songs (hence the name of the show, "Swell Noël"). Accompanied by pianist and music director Ken Muir, Jessup's unadorned and unornamented voice is perfect for this material.
A natural showman, Jessup doesn't err on the side of excessive theatricality.  He does more by changing his jacket or putting on a tie than many performers do with a whole costume room. After all, this is an adult Christmas in which the excess would be in pitiful taste indeed.  When he shifts material from Sondheim to Brel to Coward, the persona shifts seem entirely organic.
ALSO SEE: Just in time for Christmas: Philharmonia Baroque Orchestra at Cal Performances
The best of the evening was Jessup's note perfect Noel Coward.  He's nailed all of  Coward's dry wit, physicality, and vocal tone. Moreover, the material, ranging from the familiar Mad Dogs and Englishmen to lesser known works, opens up the world of Coward in such a way that you want him to never stop singing.
Late theatre critic Kenneth Tynan noted that "Theatrically speaking, it was Coward who took sophistication out of the refrigerator and put it on the hob … Even the youngest of us will know, in fifty years' time, precisely what is meant by 'a very Noel Coward sort of person.'"  Thanks in part to the Jessup keeping the master alive, we can enjoy him now – for a very adult Christmas.  This indeed makes a "Swell Noël."