If you live in Youville, meet your perfect iPhone speaker match. What you're looking at here may not just be the most interesting speaker of 2013, but possibly of all time. Chinon has a long, if not entirely known, history in photography. The Japanese company started making companies just after WW II, and were one of the first to introduce a camera (CG-5) with an auto-focus system. Now they're making unusual docking stations, and other mobile accessories. To say this one caught our eye at Stark Insider would be an understatement – but does it sound as it good as it looks? Well there's an interesting catch, read on to find out…
Chinon clearly designed this speaker for those who enjoy the intricacies of a string section, or the lush layers of Mahler's Symphony No. 9 in D Major – perhaps not Miley Cyrus' Wrecking Ball.
It's called the Legato iPhone dock. You can buy it at the Chinon Shop for $249. Pricey, yes, but what you get is certainly–as they like to remind us–a conversation starter. Far from your basic black box, this speaker is handcrafted from ash hardwood. In person, it's just absolutely beautiful. The curvaceous design is reminiscent of early century gramophones, a look their designers no doubt borrowed inspiration from.
A docking station sits atop, to the left, and includes adapters for both the current Lightning connector, and also the previous wider one for the iPhone 4, 4s and earlier. There are no buttons. There are no power switches. And there's only one port – a micro-USB, used to charge the phone (not the speaker). The design is simplicity itself. I would prefer that the left end of the dock lined up with the ash wood. Instead it juts out about an inch or so, and draws attention to itself. Otherwise this is an utterly unique design.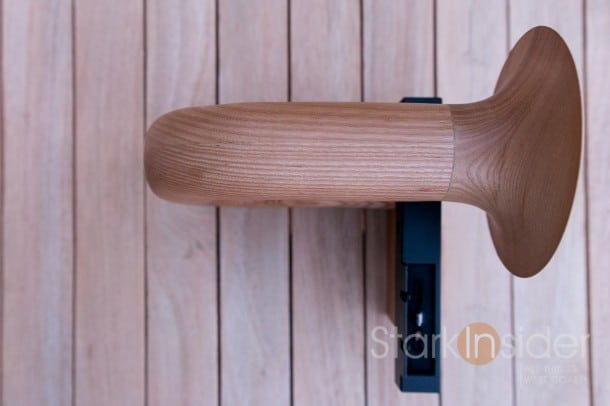 So, what about that catch?
Well, I learned the hard way. I docked an iPhone 4. Loaded up some Pandora. And gave it a listen.
I really didn't hear a whole lot coming from within the vicinity of the horn. Maybe the iPhone wasn't fully docked and the music (the most incredible Anything Could Happen by Ellie Goulding) was playing through the iPhone speaker? Maybe the rechargeable battery needed to be charged? No and no again. Everything was apparently hunky dory.
I consulted the production specs – ahhhh….
The speaker is passive!
There is no battery to charge. No power cables to worry about.
Even more interesting, this horn boosts the iPhone speaker up to 6 decibels organically. What results is a naturally equalized sound. While the process does weaken the low-end (this is definitely not a "Beats" branded device) it brings out a beautiful tone in the mid, mid-low and mid-high ranges (150 to 8500 hertz). Pop singer Ellie Goulding may not be the best demo music for a speaker like this; when i tried jazz and classical tracks, the results were much more sonically pleasing.
A horn path is located under the iPhone speaker. There the sound wave travels to the horn where it propagates through the channel. The result is natural, with heightened clarity in the mids and mid-highs where it matters most for vocals, and many musical instruments.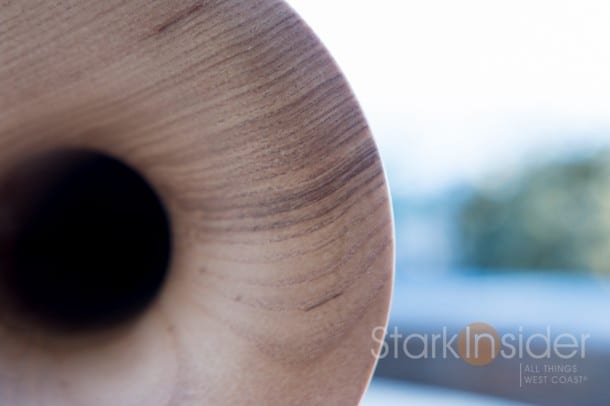 I learned that Chinon experimented with different materials for the horn. Plastic was written off quickly – quality too poor. In tests metal proved "good" in the mids and highs, but sacrificed too much otherwise. Finally, wood was selected. Audiophiles are known to appreciate the tonality that it can offer. The difficulties of machining the horn using ash no doubt contributed additional expense.
We were sent a pre-production sample. So far as I could tell, it is well made. I would've preferred the base (compatible with iPhone 4, 4s, 5, 5s and 5c) be switchable without having to remove two tiny screws underneath. Then again, you likely need only do this switch once (if needed) and be done with it. Chinon ships the unit with the Lightning base attached so if you have a newer iPhone you're all set to go.
If you're an audiophile you'll already know what you're getting here. This is not the speaker you bring to your friend's Independence Day pool party. Nor will you use it to enlighten a roomful of revelers with Robin Thicke's Blurred Lines. Rather, this is clearly designed for those who enjoy the intricacies of a string section, or the lush layers of Mahler's Symphony No. 9 in D Major. Chamber music too would be a good match. Keep in mind that the iPhone itself is still, of course, an electronic device, so while the horn may be wood the sound is still engineered – processing and compression technologies used in iOS and the respective music streaming service. Audiophiles will no doubt be playing lossless FLAC files.
I enjoyed mellowing out in the office listening to Bizet Carmen (a CD I had ripped many moons ago – in early 90's this was my de facto disc to listen to while studying) while sipping a glass of La Rochelle Pinot (elegant, smooth wine from Livermore, California). No–despite what the premise might suggest–my pinky was definitely not in the royal position. Later I moved the speaker to the bedside and analyzed and scrutinized the intricacies of Jonny Greenwood's haunting soundtrack from There Will Be Blood. It was quite astonishing listening to it au naturel, intimately.
The Chinon Legato started shipping this month, and retails for $249 (note: as of this writing, I still can't see it listed on their site). In a world of plastic over-amplification, Chinon offers up an interesting, beautifully crafted speaker that will satiate those audiophiles looking for a clean, mid-centric tone. At the very least, it will make for a one-of-a-kind conversation starter.
IN PHOTOS: Chinon Legato iPhone Dock