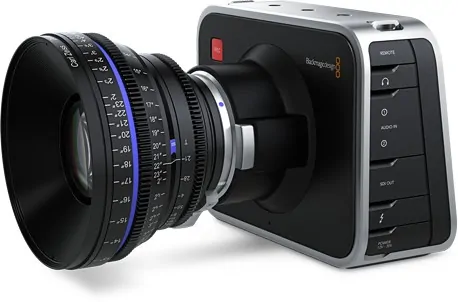 Can the Blackmagic Cinema Camera be used like a GoPro? 
For a Nashville-based musician, the answer: absolutely.
First some background.
Ask any indie filmmaker the hottest news in the last year or so and chances are you'll hear the words "Blackmagic" at some point.
Why the fuss about a virtually unknown Australian company?
In a word: upheaval.
As in, upheaval of the entire camera market. By offering high-end cameras for not-so-high-end prices the Blackmagic Design has rewritten the rules for budget filmmaking. Their two new cameras–the Blackmagic Cinema Camera ($1,995 USD) and the Blackmagic Pocket Cinema Camera ($995)–are such hot stuff that you would be hard pressed to get any enthusiast to stop talking about the possibilities. Forums across the Internet and video sites (most notably Vimeo) have lit up with sample footage, rig set-ups and (my favorite) discussions about which lenses work best. In short, Blackmagic allows films and documentaries to be shot for a relative bargain; previously, to achieve the same cinematic visual, the only choice would be something from RED ($20K+ for typical config.) or Arri Alexa ($100K+).
I wrote yesterday about shooting here in the Baja (and in general) with the Canon 70D and shared some of my lessons learned — I'm still smitten by that DSLR, especially its nifty and fast auto-focus system. I mentioned my reluctance to make the jump to Blackmagic. The post caught the attention of musician/music Nick Roberts. He pitched me a story. We get a lot pitches–food, wine, tech, arts–here at Stark Insider everyday. But this one stood out because Nick had rigged up a Blackmagic Cinema Camera on to the front of bike, like this: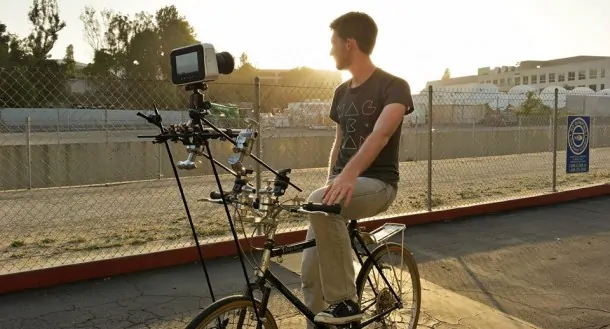 GoPro who?!
He and his LA friends shot a video for his Nashville band, And the Giraffe. He noted I might be interested because the music video demonstrates "the type of footage we were able to get with natural lighting on a bicycle."
How did they rig it up?
Improvisation was the order of the day. They used "spare rigging equipment and duct tape". Then they simply "pointed the camera at the riders' faces."
I've seen a lot of Blackmagic test footage and endless grading tests (beautiful stuff), but this might be the most unique application I've seen of a BMCC. Nick tells me the total budget was $200. But I think that, just maybe, he might not be accounting for the cost of the BMCC itself in that calculation. What band needs an accountant anyways?
Here's the music video for And the Giraffe's single "Sorry" (directed by Harrison Sanborn who owns the Blackmagic Cinema Camera). My thanks to Nick for emailing us!
(fans of BMCC dynamic range will want to pay particular attention to the gorgeous desert dusk shots starting at 2:15)