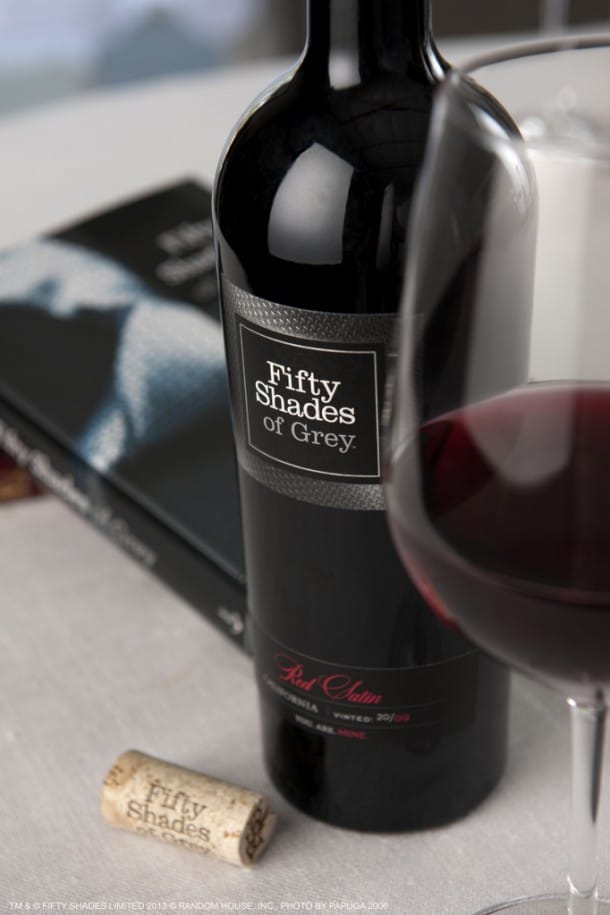 First it was Brad Pitt and Angelina Jolie. Now Fifty Shades of Grey author E.L. James is  jumping into the wine-making fray. Her book transfixed the country, selling over 50 million copies and setting the nightly news agenda squarely on "Mommy Porn." And like many other celebrities that enjoy a big payday she's now on jumping into the wine business. Can you she succeed in sexualizing our palettes?
The wine will be called "Fifty Shades of Grey."
Perhaps all her creative energy was being consumed by the film version of her novel which is, reportedly, now in production. Then again, leveraging Fifty Shades for the wine branding is arguably the obvious and savvy move.
James said in the announcement, "Wine plays an important role in 'Fifty Shades of Grey', adding to the sensuality that pervades a number of scenes."
Don't we know it.
There's currently two styles–a 2009 "Red Satin" and a 2012 "White Silk"–now available on her fiftyshadeswine.com web site. Both are priced at $18 per bottle or $215 for a case (12).
ALSO: Do consumers care about the 100-point wine scoring system?

As of yet we haven't been able to determine who actually makes the wine. One could imagine the author stomping grapes nude while passionately writing her Fifty Shades sequel on an iPad.
For those that want to play from home, the she has summarized 18 scenes where wine plays a prevalent role in the book. Needless to say this should make for some interesting Vines, Instagrams and Tweets in the coming weeks.
It will be interesting to see if James' Fifty Shades brand can command the same attention as Brad and Angelina wine project. The Hollywood power couple sold out their initial lot of wine in a matter of hours.