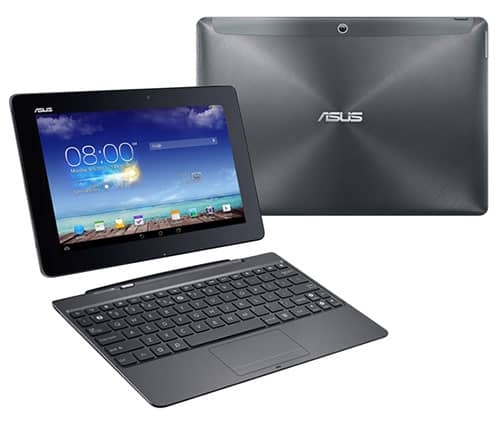 "Berlin is the newest city I have come across. Even Chicago would appear old and gray in comparison."
And with all of the announcements coming out of IFA 2013, Mark Twain's words might still be appropriate today. Asus has unleashed a bunch of new products at the gadget conference in Berlin.
Perhaps the most interesting is this new Android slate. Featuring a high-resolution 2560 x 1600 IPS display in concert with a NVIDIA Tegra 4 (ARM Cortex-A15 CPU and a 72-core GeForce GPU), the Transformer Pad TF701T immediately catapults to the top of our list of most desirable Android-based tablets (though, to be fair, the Nexus 7 is still pretty darn good).
Other noteworthy specs include USB 3.0, "SonicMaster" audio, 2GB RAM, 5MP/1.2MP cameras on the rear and front respectively, micro-HDMI, micro-SDXC expansion, and 17-hour battery life.
All of that in a package that measures only 8.9mm thick and weighs 585g.
But there's a but…
Design-wise, we are slightly disappointed with the bezel, which appears not to be influenced by the vanishing trend we're seeing in the market with the likes of the iPad Mini, Moto X smartphone, and the upcoming iPad 4 (leaked pics show a tiny bezel on the sides, much like the Mini). Everything looks decent on paper, but that bezel is just not up to snuff for 2013. Another nit: Asus' continuing insistence on shipping a dated keyboard with a truncated right shift key.
Other announcements by Asus from IFA include a Galaxy Note 2 competitor dubbed the FonePad Note 6 (Does Samsung hold some form of copyright on "Note" I wonder?), several ultraportables running Windows 8, and 8- and 10-inch MemoPad Android tablets (sans the docking capability as seen above with the Transformer).
Meanwhile the buzz here is all about Galaxy Gear smartwatch, will Samsung will reportedly unveil tonight. Is this the dawn of wearable computing?