Is history supposed to be this entertaining? With 1776, an inside look at how the Declaration of Independence came to be, American Conservatory Theater may well have discovered how to wake up classrooms everywhere. The political musical, based on a book by Peter Stone, opened over the weekend and is one of the most sumptuous, witty, and, yes, entertaining, bits of theater I've seen so far this year.
If you told me that the highlight of my weekend would feature an almost 3 hour history lesson on the machinations of 18th century congress I'd kindly suggest you Google "entertainment" for any number of other, far more plausible options in San Francisco. Do we really need to pile on another heaping of grandiose, Hollywood-esque, flag-waving Americana? But this is A.C.T., a theater that consistently hits the mark. And this is, once again, a lavish production; one that left the audience buzzing as theater-goers streamed onto Geary after a spirited opening night.
Until you've seen Benjamin Franklin and John Adams on backup vocals ("The Lees of Old Virginia") you truly haven't lived.
With a cast of 26 (!) 1776 eschews chest-thumping, cheap bravado. Instead we see historical figures such as John Adams (John Hickok), Benjamin Franklin (Andrew Boyer) and John Hancock (Ian Simpson) as everyday people with everyday problems – deciding whether or not to open the anteroom windows to alleviate some of that Pennsylvania heat at the risk of letting in flies, for instance, can become a rum-fueled throwdown. Of course these are not ordinary people. The "obnoxious and unlikable" John Adams is determined to cut ties with Great Britain. Thomas Jefferson is a gifted wordsmith–so long as his beautiful bride is near. John Hancock, he of that famously large signature, just wants to keep the proceedings on course.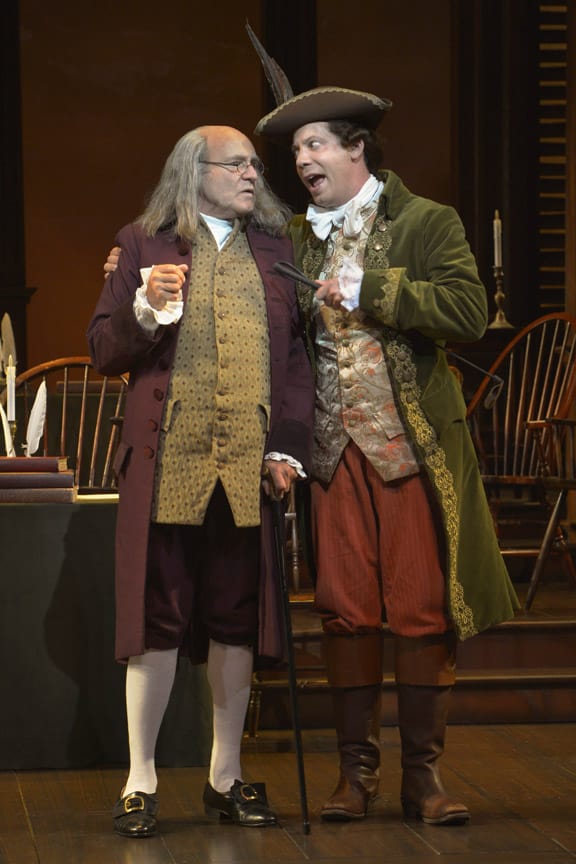 MORE THEATER & ARTS: The Golden Dragon serves it up fast
Breaking the musical mold is one of my favorite aspects of this production.
We're so accustomed to the traditional 'song/brief dialog/song' structure that when we get 'song/dialog/more dialog/even more dialog/song' we're thrown off guard. Instead of rushing to song and dance, this is a show that takes its time. Not glossing over details with the superficial gives 1776 substantial heft. In one scene, when John Hancock is tallying yea/nea votes (using a beautiful wooden overhead board), each congressman painstakingly contemplates their votes with lengthy arguments and back-and-forth conversations. New York, let us be reminded, abstains.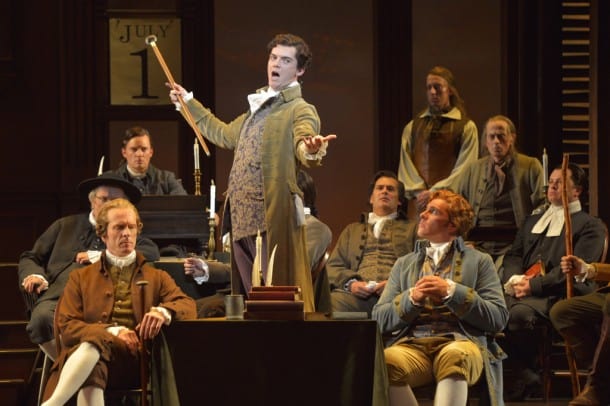 No one would dare accuse this musical of polishing history and putting it on a mantel. I wondered how the slavery issue would be handled. The answer: straight on. In one of the most riveting scenes Edward Rutledge, governor of South Carolina, makes the case for removing the clause from Jefferon's draft that abolishes slavery. The number ("Molasses to Rum") is abstract. There are no re-enactments. Instead actor Jarrod Zimmerman delivers a haunting performance of a song that describes the slave trade. It sends shivers down the spine.
Achieving the Declaration of Independence, we're reminded, was not a magical process, granted by divine intervention. The kibitzing, yelling, and arguing (and sleeping) over the three month period in that State House might not seem that far out of place at the typical American dinner table. It gives you hope that, somehow, despite today's ever depressing headlines–healthcare, Syria, gun control, the economy– the human spirit will triumph. Best of all this musical sparks curiosity. It made me want to re-visit that spectacular time in U.S. history later that evening when I arrived home.
So, then, should you see 1776?
Certain-lee.
Not a big fan of musicals but 1776 was bespoke. Funny, intelligent, inspiring. This from a Canadian! #ACT1776

— Clinton Stark (@clintonstark) September 21, 2013