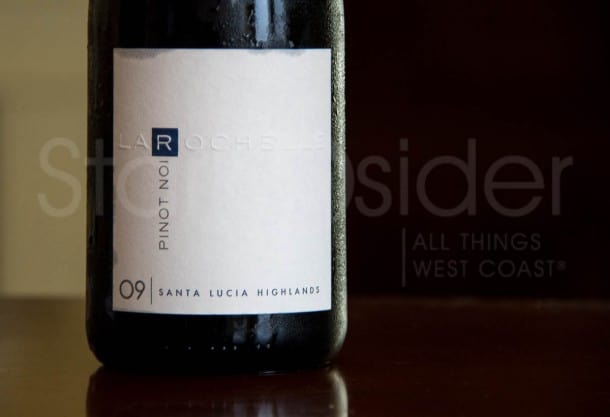 "Santa Lucia! Santa Lucia! You gotta try this one!"
My friend Jay was right. A Pinot Noir doesn't get much better than what you'd find in a glass of this '09 La Rochelle. Santa Lucia Highlands, of course.
We were touring Livermore back in the 2000's (doesn't that sound peculiar), and the highlight stop was a tiny tasting room at La Rochelle. The antithesis of massive, tourist-ready outfits you so readily find now along highway 29 in Napa, this winery, with its laid back cottage style architecture, evokes images of simpler times. And rightfully so I suppose. About thirty minute drive east of San Francisco, Robert Livermore first planted vines here in the 1840s – now the region is home to about 40 wineries. Some of them, such as Concannon, with its Petit Sirah legacy, and Wente, and its Chardonnay legacy, have significant roles to play in the history of the domestic wine industry.
Recently La Rochelle sent Stark Insider some bottles. And wouldn't you know it. Once again, the Santa Lucia Highlands Pinot again effortlessly acquitted itself with class.
There are wines you need to sniff, to swirl, to taste. Over and over. The olfactory can be unpredictable. Is it any good? Sometimes the conclusion doesn't arrive immediately. It could take time — like assessing a political candidate. That is absolutely not the case with this beauty. You know your're into the good stuff right away. Sumptuous, rich, and full of that smokey, barnyard-esque, blackberry drenched goodness that can only come from Pinot when done right. Or, in this case, to near perfection.
I'm not sure where Jay is now; something about buying land up North in Oregon. But those words forever stuck with me:
Santa Lucia!
2009 La Rochelle Pinot Noir, Livermore (Santa Lucia Highlands)

"You know your're into the good stuff right away. "

95/100

Pinot Noir

15.2% alc.

$38