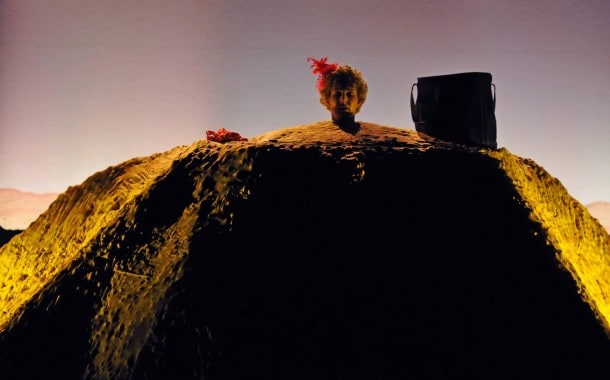 "Begin, Winnie."
Eyes dart to her right with a more than a glint of suspicion that all is not well.
"Begin your day, Winnie."
And so Winnie impatiently prompts herself to begin her day.
At some point, many of us sat through interminably bad productions of Waiting for Godot, which sealed the deal never to repeat the experience. We need cajoling fiercer than Winnie's opening commands to take in 1969 Nobel Prize winner Samuel Becket's works again. Given that the run of Happy Days is a mere two weeks, it's as if the folks at Stanford Summer Theatre (SST) anticipated Becket might be a hard sell. This is unfortunate because the tiniest bit of patience pays off mightily with this production.
The curtain opens on Winnie (Courtney Walsh), buried up to her bosom, in what vaguely appears to be a sand dune, prattling like a madwoman. Her monologue is invaded by silences, pauses, stops and starts, as she self-edits, desperately trying to get it right. This crazy person even appears as a clown, costumed as she is in a dress with a small red-and-white print bodice and bright red poof sleeves. Our whole attention goes to deciphering who this crazy person is and why she's stuck there with her grossly inadequate parasol and no sunblock and nothing more than a handful of items in bag to make sense of her days.
Then, of course, the realization hits, that we're all Winnie – this crazy person who clings as tenaciously to the text on her brush ("genuine hog settae") as we do to our iPhones. Fraught with anxiety, Winnie accommodates as easily with the mess she's in as we do with the traffic on the 101. We so share her  intense joy at unexpected appearance of her husband that all the claims to the effect that Becket defined the entire post-war generation start making sense.
Courtney Walsh creates a Winnie that trumps many of the difficulties of Beckett. As in any other Beckett play, the monologue is merely an accompaniment to what goes on. Questions get nothing more than further questions and tautologies abound. However, Walsh's Winnie is so darn likeable that we don't feel trapped in a bad lit class about post-modernism. Silence may be pouring into the play like water into a sinking ship, but we want to remain in the moment, stuck with Winnie, because that's the best of all possible outcomes. Her sing-song repetition of lines ("no better, no worse, no better, no worse, no change.") give the monologue such a musical structure that we look forward to the repeats, buying into them as tools that keep her world intact.
ALSO: Review: 'No Man's Land' with Patrick Stewart and Ian McKellen
Walsh's gifts as an actress are particularly evident in the second act. The sight of Winnie buried up to her neck sears – as does the realization that she can't rifle through her bag anymore to define herself. Stripping of the physicality that actors impart to their characters, Walsh does more her voice, her eyebrows, her mouth, and her cheeks than many do with their entire being.
Happy Days plays the Nitery Theatre at Stanford until August 25 – and is well worth taking in.