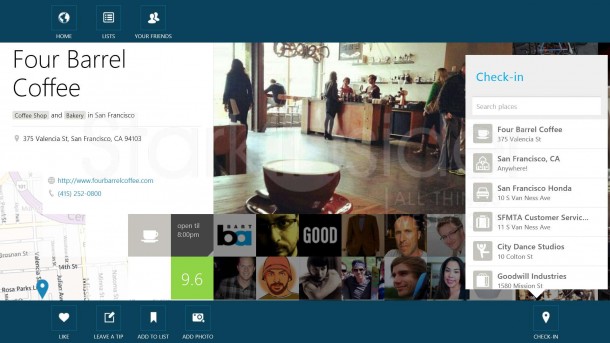 Foursquare finally landed on Windows 8. It was worth the wait. Well worth it.
I gave the new app a spin on a Surface Pro tablet we have here are the Stark Insider office. Quite simply Foursquare on Win 8 is bloody brilliant.
If you have any doubts about the design aesthetics of "Metro" or the potential for Microsoft's mobile platform look no further. Foursquare is a stunner.
Of course we know the location-based app well. It's been around for years. For a while it was hot, then not so much. Lately it seems to be making a comeback.
What's interesting is despite my familiarity with Foursquare, it takes on a whole new life on Windows 8, inviting me to tap photos, explore new locations, and learn about new neighborhoods and eateries far better than it does on other platforms.
Windows blew them all away
I tested Foursquare side-by-side on the Surface Pro with a Nexus 4, iPad Mini and (for kicks) an old Samsung Galaxy Tab. There's no comparison. While the Android and iOS versions aren't exactly slouches, Windows blew them all away. To be fair this is the first official Foursquare app for large-screen devices. But still, it's here today, but only W8 brings the cinematic glory.
What makes Foursquare work so well here is largely the horizontal design of the Windows (Metro) interface. By efficiently utilizing as much of the screen as possible, the app overflows with eye candy – swiping around reveals more without any stutter, without an ounce of delay. In fact, on the Surface Pro at least, Foursquare is crazy fast.
The irony of the whole thing for me is that all of this goodness will be for not. I run around town with a Nexus 4 (bring on the 5!) so check-ins come via Foursquare for Android – again, it's decent, but is a far cry (3) from the dazzling visuals that spoil on W8.
Microsoft takes a lot of flack; some of it justified (Ballmer not stepping down sooner), some of it now (Windows 8 is actually pretty good). One thing I know for certain, after almost a year of regular use and testing, is many of the brand-name Windows 8 apps are best-in-class and are lightyears ahead of their counterparts on other platforms. Netflix, eBay, Internet Explorer, USA Today, Twitter, The New York Times, Kindle – just a few of the apps that look slick, and run fast on the Metro. Then there's Microsoft's Bing apps: News, Sports, Finance, Health. They are outstanding. I love them, and wish we'd see equivalents on other platforms (not a chance!).
I have a lot of issues with the Surface Pro. Battery life is horrendous, essentially rendering it useless as a mobile out-of-the-home device. It's too heavy, too clunky. The kickstand forces an awkward angle that can't be adjusted. And even some of the details are screwy, like the awkward power connector that stubbornly refuses to attach without fuss. Still, with all that, I turn to the Surface Pro a lot these days (and the rumored Surface update will hopefully address these issues) because of its apps, and luxurious speed – with an Intel i5 it doesn't wont for performance. Live tiles are informative, and they make iPhone/iPad screens look positively dull by comparison. I do miss Flipboard, Facebook, solid third party Twitter apps, native Google apps (though I got to say they run pretty well in Metro IE), Yelp and others.
If you use Windows 8 on your phone, or tablet then the takeaway is pretty simple: Download Foursquare from the Windows Store, and get swiping. It could be one of the rare times you make your iPhone friends envious.
IN PHOTOS: Foursquare for Windows 8