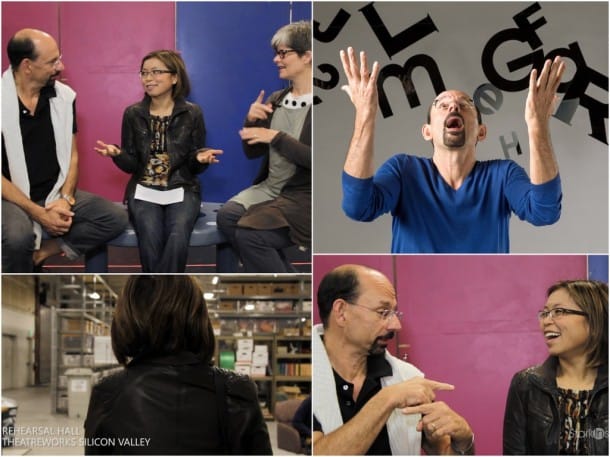 Actor Adrian Blue jokingly offered to teach Loni a few swear word signs. Instead, she learns how to sign "Pufferfish" and in a spontaneous moment also learns the sign for "Google" – one that perhaps indicates the outside world's view of Google Glass early adopters. Watch this video to find out if she has what it takes to sign.
Even after four years of covering the Bay Area Stage, there's always another first. Long overdue, we finally interview a deaf actor. And wouldn't you know, this isn't just any ordinary deaf actor- what we have here is a "profoundly" deaf actor.
Adrian Blue says that there's millions of scripts out there, and finding the right one also means ensuring the actor suits the character. Force fitting the situation just because an actor is deaf will likely not yield the best result. Fortunately, playwright Catherine Rush's new play The Loudest Man on Earth fits AB perfectly. The story concerns two opposites–a deaf, maverick stage director and a hearing, charismatic journalist–who work together to navigate a police bust, painful brushes with unthinking strangers, clueless friends and family, and their "budding, uncertain romance."
New signs are sometimes created to deal with contemporary things.
Five years in development, the play was work-shopped at TheatreWorks' New Works Festival last year where it was a smash hit. After some tuning, Loudest Man will enjoy its world premiere this week at the Lucie Stern Theatre in Palo Alto. The play was originally commissioned by the Philadelphia Theater Workshop.
"It started as a single scene that I wrote over and over and over again, but never seemed to develop into a play," playwright Catherine Rush tells Loni in this special episode of Stark Insider TV. "The play is episodic. So each scene is its own little play in some ways. And that's the way I constructed it. You see the arc of their entire relationship from the time they meet, onwards."
In addition to the two romantic leads (Joining AB is Julie Fitzpatrick as the journalist), two other actors (Mia Tagano and Cassidy Brown) play well over twenty different parts – so if you go be sure to watch for plenty of costume changes, an assortment of genders, and a kaleidoscope of accents.
How exactly, then, do you sign "Google"? You'll have to watch the video below to find out. Hipsters will no doubt learn the insider sign in advance of opening night which takes place Saturday, July 13 in Palo Alto.
WATCH: THE LOUDEST MAN ON EARTH