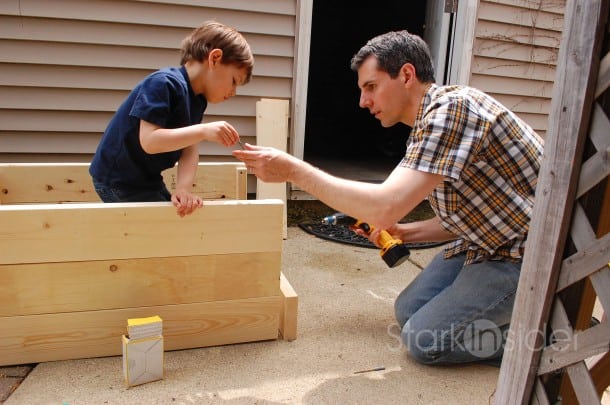 Sometimes an unexpected email can put a smile on one's face. Such was the case yesterday when Jeff B. wrote in with some photos attached of he and his son Emmett assembling a planter box using my plans. The first thought that came to my mind: cute!
The planter box plans have been flying off the virtual shelves here at Stark Insider, even more so that spring is here. I never expected them to reach thousands of people when I first drafted them. A few years back I too was looking for a simple DIY planter box so I could grow some veggies in a small space in the sideyard. I couldn't find any suitable plans at the time. So I made my own. I've been enjoying fresh veggies (especially tomatoes) for years now, serving up fresh salads, and using various herbs and other goodies to add a dash of culinary delight to several of my dishes.
I knew that the planter box was good for growing vegetables. That's obvious. But what I didn't realize was how a simple gardening project could bring so many people together. Every time someone sends me photos of their finished planter I smile. I've received emails telling me about how the plans were used to build a planter for a community center. Another time, two room mates drank beers, listened to music while building theirs – striking funny poses along the way. Seniors have also benefited from the waist-high design that goes easy on the back.
This is the first time I've received father-son photos. I had to share them. Look how adorable four year old Emmett looks working with Dad in the garden. And check out that little guy's intent focus!
My thanks again to Jeff for sending me these photos and allowing me to share them here with you.
Happy Gardening!
IN PHOTOS: Jeff and 4 year-old Emmet's Planter Box Project