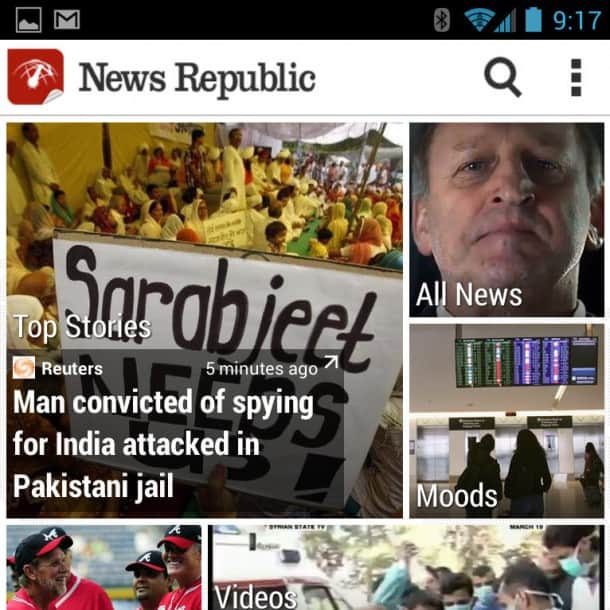 While HTC One and Samsung Galaxy S 4 duke it out for the best Android crown, there's a way to inject some new-ness into your current smartphone, be it an Android or iPhone.
One of the most discussed features is something called Blinkfeed. As seen on the HTC One (a mighty fine handset) it lights up the homescreen with articles, photos, social networking updates. It looks pretty–there's a slick scrolling effect, and the presentation is very modern. Think of it as Flipboard light.
Turns out the content "engine" behind Blinkfeed is actually software made by Mobiles Republic. These are the same guys that scrub some 1,500 media sources such as AOL, Associated Press and CBS Interactive. The company delivers more than 10,000 articles each day to users of smart phones and tablets: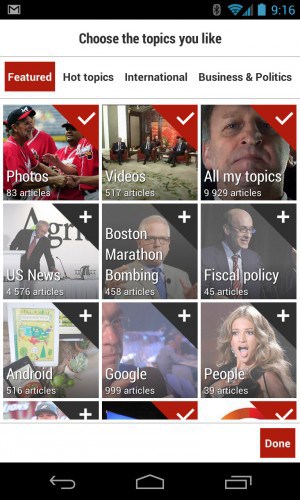 So what does this have to do with your phone?
Well, you can actually download the News Republic app for your Android or iOS device (iPhone/iPad) and get an approximation of the Blinkfeed experience. Best of all it's free and won't require a phone upgrade. Tip: if you're on Android, add the widget so you can get news right there on your home screen.
It's pretty hard to beat the real Blinkfeed experience that comes with the HTC One. Out of all the stuff we're seeing from the Samsung and HTC camp, the feature is one of our favorites. But this app may very well be the next thing (well, that and Flipboard too of course!).
Download: News Republic (Android | iOS)