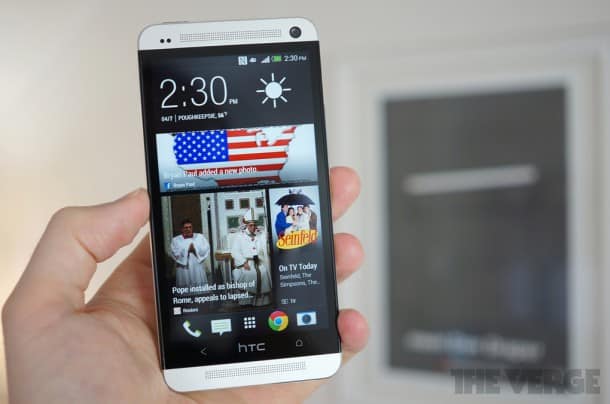 HTC needs a hit. So far it looks like its new One Android handset has the makings of being a smash hit for 2013 – at least according to early reviews from some of the most respected names in tech.
At $199, the HTC One will hit the U.S. market (AT&T) on April 19. Featuring a 4.7-inch display and running Android Jelly Bean (version 4.2), HTC did not skimp on specs. The phone is powered by a 1.7GHz Qualcomm Snapdragon 600 quad-core processor (i.e. it's fast!) and features a generous 2GB helping of internal RAM (most others come with half that).
Most reviewers are particularly enamored by HTC's build quality. Unlike Samsung's infamous plastic-centric design (as seen in the new Galaxy S 4), HTC has chosen a more Apple-like approach in the design of the One. The frame is all aluminum, yet retains the a decidedly sexy thin profile (9.3mm), and, most importantly, feels solid in the hand.
WSJ said "HTC Makes the One the Android to Beat" and praised its build quality, but pointed out that the back can at times feel "slippery." The reviewer dropped the phone on "several occasions" (!) as a result.
We don't think anyone at The Verge was bouncing the HTC One off the pavement though. With a score of 8.5 (extremely high by their standards), the One received high marks for its design (a recurring theme across all reviews!), speed, and network performance. This pretty much summed up the phone: "The HTC One is one of the best Android phones I have ever used — and it is by far the best Android hardware ever." Heady stuff.
Joanna Stern via ABC said the Samsung Galaxy S 4 may still be the Android to wait for if you're looking for features galore, "but for now, the One is the one to buy."
CNET called the HTC One a winner. On the good side: powerful processor, metal design (again!), "beautiful" 1080p display, takes great photos. It was noted, however, that it doesn't have SD card expandability, nor will it be available on Verizon.
HTC must be pleased with the results so far. It remains to be seen whether the handset will be enough to counter behemoths Samsung (Galaxy S 4) and Apple (upcoming iPhone 5S, and a reported expansion of sizes and models). HTC has made good handsets before – issues related to sales, marketing, distribution could be the real driving factors.