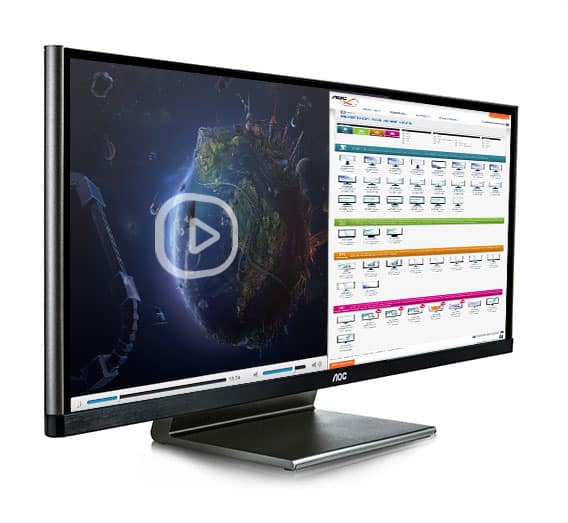 Wide screen insanity! If you don't like the idea of taking up desk space with a dual monitor configuration, AOC might have the solution for you. The idea behind their new Cinematic 29″ UltraWide Display (Q2963PM) is to replace two monitors with a single, wide screen. And by wide, we mean wiiiiide.
With a 21:9 aspect ratio you could watch a standard letterbox movie and still have room to spare at the left or right. Perfect for streaming PSY's new video while watching Gone With the Wind. Resolution is rated at 2560 x 1080.
The normal array of ports are here including DisplayPort (1.2a), HDMI and DVI.
Other specs of note: 50,000,000:1 from viewing angles up to 178° both vertically and horizontally; 250 cd/m² brightness; and a response of 5 ms.
All sounds pretty decent to us. Another thing we like. AOC saw fit to include a MHL port. It allows Android users to connect compatible phones and tablets directly to the monitor to mirror content to the 29-inch UltaWide display while charging the mobile device at the same time. Sweet.
Price is $499, and is the monitor is available on Amazon, but shipping is quoted as "3 to 5 weeks."
According to the company, the panoramic monitor will also be available at Microcenter, New Egg, and Tiger Direct.