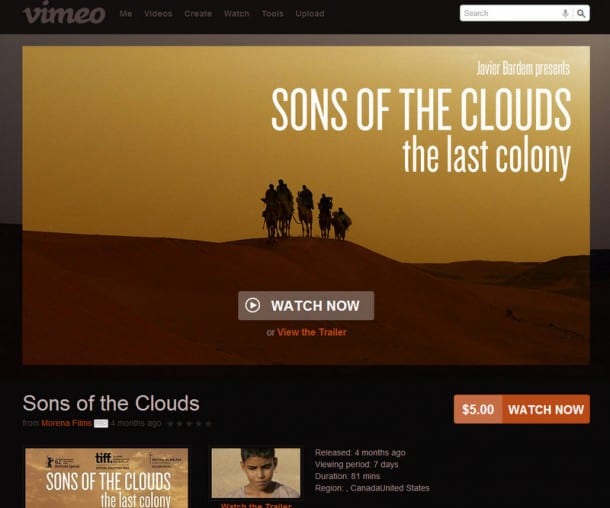 Vimeo loves filmmakers. And it knows how to treat them right. Just announced today (at SXSW), Vimeo is making available a new "On Demand" service that allows individual videos and films to be monetized. Most compelling to would-be auteurs is the revenue split: 90% for the video's creator, and 10% for Vimeo. In this industry that's a mighty fine bargain.
Payouts will be made via PayPal. The service is compatible with just about every device under the sun including iPad and Android tablets, smartphones, video game consoles such as the PlayStation 3 and Xbox 360, and streaming players such as Apple TV, Roku, and Boxee.
A bevy of quality indie flicks already populate the Vimeo On Demand web site, including Jeremy Jones' Further, Sons of the Clouds, and Beauty is Embarrassing.
To take advantage of the new distribution service, a new pro level membership is required. Vimeo Pro currently goes for $199 per year and also offers branded video pages, 50GB storage, and unlimited uploads, among other goodies. We use Vimeo Plus for Stark Insider TV segments, which costs $59 per year, but does not include the on demand service.
This is a great move. I expect the independent film community to embrace on demand and Vimeo's new distribution model.
Vimeo is already regarded as the site for filmmakers. While you're likely to find a piano-playing cat, or an errant kick to the crotch on YouTube, stunning cinematography, and creative story-telling are the order of the day on Vimeo.
ALSO: Road to a Million Views: What's the ideal length for a YouTube video?
Since 2009 I've used Vimeo to upload all of our Stark Insider videos. We also use YouTube. It's a dual pronged approach. YouTube gives us unparalleled reach, and even for a relatively small entertainment channel such as ours we get about 1,000 or so views per day. Vimeo, meanwhile, gives us better control – not only is the player prettier, it's far more customizable (though YouTube has made great strides in that regard over the past few years). We get 50 or so views on average on Vimeo, and that number continues to climb.
If I were to ever make a short film or documentary, there's little question Vimeo's new service would be on the short-list for distribution. Of course it doesn't solve the marketing challenge; you'll still need build awareness, and drive demand so that potential viewers find out about your film, and land on the web page. But to have such a powerful video platform available, with 90% of revenue going into the production company's pocket is a boon for indie film.