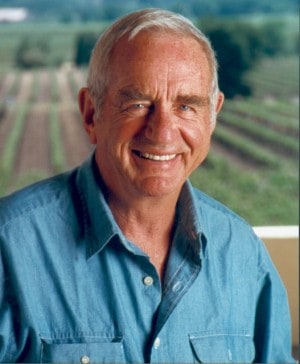 We just received word that Chateau Montelena owner, wine pioneer James Barrett passed away yesterday. He was 86.
Barrett came to Napa in 1972 with the goal of starting a winery.
"I wanted to do something to make people happy," he often said.
He'll be forever remembered for putting Napa on the world stage. In 1976, under his leadership, Chateau Montelena's 1973 Chardonnay was selected as the top-rated wine over the other entries, including four white Burgundies and six California Chardonnays at the infamous Paris Tasting (aka Judgment of Paris).
We're told that when asked about the victory, Barrett simply replied, "Not bad for kids from the sticks."
From the press release: "Throughout his life Barrett actively supported many organizations dedicated to the growth and advancement of Napa Valley and the wine industry. He served as Association Director and President of Napa Valley Vintners during its formative years, was Director of Family Winemakers of California and was a longtime member of Thomas Aquinas College Board of Governors, N.P.H.I. – Nuestros Pequenos Hermanos International Board of Directors and Irish Order of the Wine Geese."
Hi son Bo Barrett, who will continue in his current role of CEO (and master winemaker), said, "My father bought Chateau Montelena in 1972 and has worked hard every day since to grow the best grapes and produce the best wines. My dad died of a life well lived."
R.I.P. Jim.