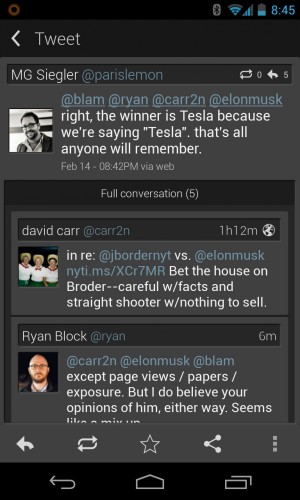 TweetDeck is dead, but that doesn't mean that there aren't some great Twitter clients for Android out there.
We've rounded up some of the best Twitter apps, and are pleased to report that if you're looking for a TweetDeck alternative you're not going to be disappointed.
Don't forget, TweetDeck has not been updated since September 2011. That's about 18 months, or, by any reasonable tech standard: an eternity.
What kind of Twitter user are you?
That's the first thing you must ask yourself. Based on the answer, you'll quickly find an Android Twitter app worthy of taking over for your long dormant TweetDeck app – RIP.
ALSO: Road to a Million Views: Tips for naming your YouTube video
As resident Silicon Valley beat reporter Clinton Stark says, "If you haven't been to the Play Store recently, and are still stuck on TweetDeck, or have yet to venture away from the official Twitter app, you may be surprised to discover all sorts of good things awaiting."
For the compete Android Twitter apps, and ranking see this article here: Best Android Twitter Apps.
TweetDeck is dead! Long live TweetDeck!