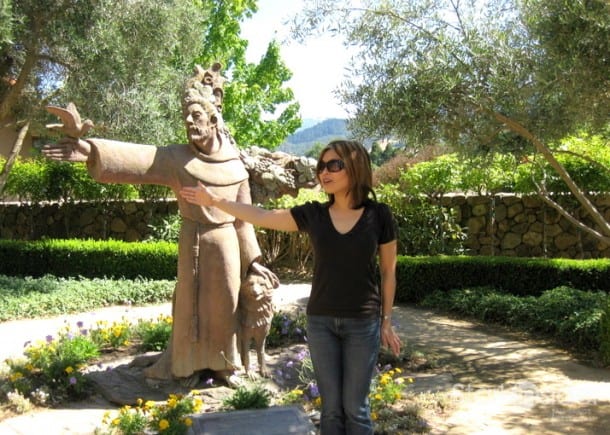 Sonoma Valley Vintners and Growers have announced they are expanding this year's addition of VinOlivio, one of Sonoma's most popular wine celebrations.
Now taking place over the course of an entire weekend (President's Day weekend), the event features more than 60 wineries and 25 of top restaurateurs in Sonoma Valley.
Stark Insider readers tell us VinOlivo is a great way to take in the best that Sonoma has to offer, and we concur.
Specifically you'll be able to sip Sonoma Valley's "best wines as you get to know the personalities behind the wine, ignite your taste buds with culinary delights from more than 25 of Sonoma's finest restaurateurs, caterers, and artisans, sample savory olives from the Olive Bar, enjoy the seductive Port Wines, experience the Pommes Frites and Sparkling Wine Bar, and entertain your senses with one of the hottest DJs in town."
California Wine News: Grape Crush 2012 Sets All-time Record
Participating wineries include: Anaba Wines, Bartholomew Park Winery, Benziger Family Winery, Buena Vista Winery, Clarbec Wines, Cline Cellars, Deerfield Ranch Winery, Enkidu Wines, Envolve Winery, Eric Ross Winery, GlenLyon Vineyards & Winery, Gloria Ferrer Caves & Vineyards, Haywood Estate, Imagery Estate Winery, Jacuzzi Family Vineyards, Kenwood Vineyards, Landmark Vineyards, Larson Family Winery, Ledson Winery & Vineyards, Loxton Cellars, Muscardini Cellars, R2 Wine Company, Ravenswood Winery, Schug Carneros Estate Winery, Sebastiani Vineyards & Winery, Spann Vineyards, St. Francis Winery & Vineyards, Tin Barn Vineyards, Two Amigos Wines, Ty Caton Vineyards, Viansa Winery & Marketplace, and Walt Wines.
1-day tickets are $25, and 3-day tickets are $50. VinOlivo runs Saturday, February 16 through Monday, February 18 at participating wineries across Sonoma Valley.
As always, Stark rules apply for large public tastings:

Wear something white – you want to proudly showcase all of your red wine stains as badges of honor. Don't spit. This is great wine. Enjoy it. Live a little!
WATCH: Jean-Charles Boisset, the James Bond of wine (Video)
If you go and are new to these kinds of things, here's a couple of the more popular wine articles on Stark Insider that can help you fit right in: Wine Etiquette: How to hold a wine glass and How to taste wine like a Pro with master sommelier Andrea Robinson.