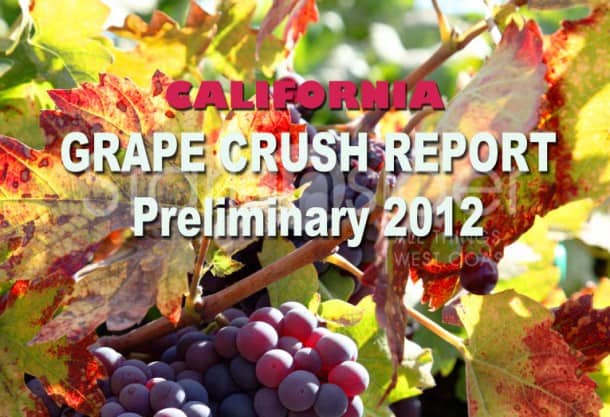 It's official: 2012 was a record crush for California.
According to the National Agriculture Statistics Service, total crush for the year came in at a a record high 4,383,100 tons. That's up 13% from last year and 1% better than the previous record set in 2005.
The report, which is still dubbed "preliminary," notes that red wine varieties accounted for the largest share of all grapes crushed, at 2,289,783 tons, up 19 percent from 2011.
Other interesting points from the 143-page report:
— The 2012 white wine variety crush totaled 1,724,121 tons, up 21% from 2011.
— Tons crushed of raisin type varieties totaled 270,085, down 28% from 2011, and tons crushed of table type varieties totaled 99,111, down 36% from 2011.
— The 2012 average price of all varieties reached a record high of $734.35, up 24% from 2011.
WATCH: Jean-Charles Boisset, the James Bond of wine (Video)
— Average prices for the 2012 crop by type were as follows: red wine grapes, $879.04, up 24% from 2011; white wine grapes, $623.50, up 15% from 2011; raisin grapes, $318.62, up 20%; and table grapes, $272.21, up 24%.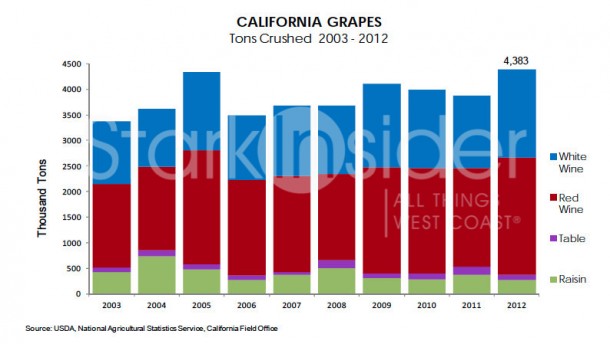 —  Chardonnay once again accounted for the largest percentage of the total crush volume with 16.8%. Cabernet Sauvignon accounted for the second leading percentage of crush with 11.3% of the total crush.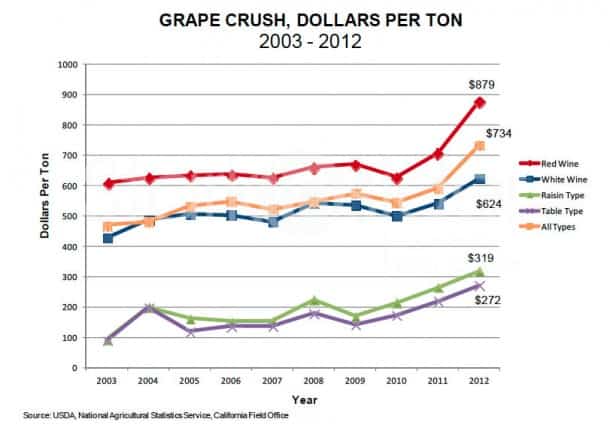 No surprise that red wine, at $879 per ton, continues to be the most expensive California grape.
ALSO: Best Wine Blogs 2013
We've been hearing for months that 2012 was a terrific year for output, and this preliminary report appears to all but confirm there will be significant volumes of California market hitting the market in the next few years. The final version will be published a month from today, on March 8, 2013 on the NASS web site.
[Office of USDA NASS: Grape Crush Reports]