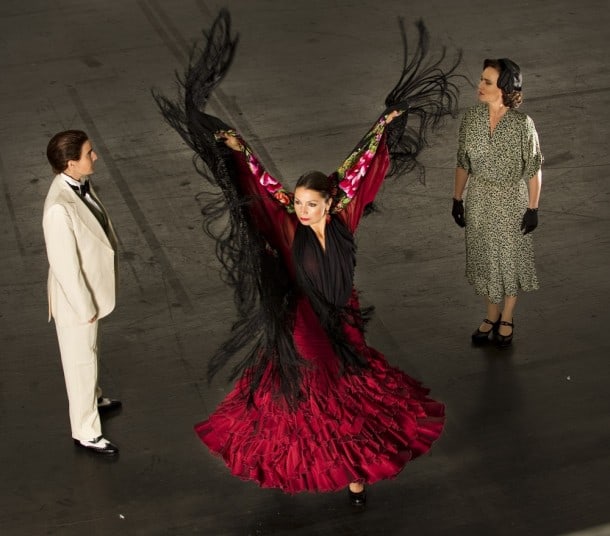 Opera Parallèle's Ainadamar is the most exciting opera to hit San Francisco in several years. This nuanced production operates on many levels, yet is easily embraced by folks who know little about opera or the  Spanish Civil War. Like many of the offerings by Opera Parallèle, this striking work makes a resounding case for the vitality of contemporary opera.
That something extraordinary is afoot is evident even before the curtain opens as singular ghostly figures, white dresses matching white pancake, wend their way through the lobby, coursing slowly throughout the theatre,  pausing to sit briefly before picking up a white bloodstained suitcase and moving on.  Thus primed, the audience is open to appreciate the single deep horn leading the orchestra. Operatic, video, and dance elements are individually added, building slowly to a explosive crescendo in which electronic hoof beats organically morph into a flamenco heel dance. Leaving the audience breathless, a triparate story of Federico García Lorca, his muse, Margarita Xirgu, and Mariana Pineda unfolds.
Not for nothing are these the people that embalm folk heros like Evita Peron, making the macabre an element of daily consciousness.
Soprano Marnie Breckenridge demonstrates such a breadth of dramatic range, vocal clarity and control that the haunting aria "Mariana, Tus Ojos" still echoes in my mind. No ornamentation is provided – and none is needed – for this achingly beautiful performance. She moves easily between the centuries, first as Margarita Xirgu, and again as Mariana Pineda, whose 1831 public execution by garrote in Granada inspired an early Lorca play.
Curiously, Federico García Lorca is a trouser role, performed by Lisa Chavez. He appears as dandy, only coming into himself during his exquisitely prolonged execution scene, in which the spray of bullets continue long last event itself, becoming part of a flamenco pattern.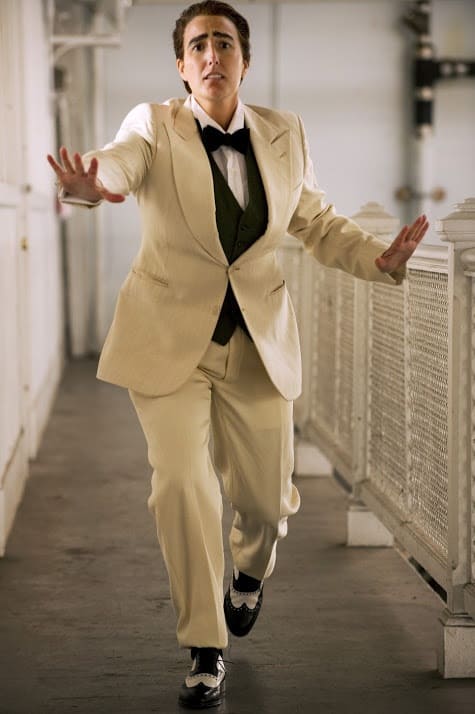 The assassination of Lorca reads easily as a passion, even by those with only a passing familiarity with the Christ story. Not for nothing is his full name Federico del Sagrado Corazón de Jesús García Lorca. Some of this recontextualization is pointed, such as snippets of the libretto that read as biblical verses ("Here is my blood shed for thee. Drink it and tell my story."). Like Christ, Lorca is assassinated with  two others (in his case, a teacher and a bullfighter). Like the reincarnated Christ, Lorca appears to his followers (in his case, Xirgu)  after his assassination. Other elements are more subtle, such as the fingers of the dancers that surround his head like a crown of thorns when he is mocked, until ultimately, become they become like a halo.
ALSO: Review: 'Red' All about Mark Rothko
Composed by MacArthur Fellowship winner Osvaldo Golijov, with a libretto by David Henry Hwang, this production pulses with Spanish intensity, and all of the Spanish theatre surrounding death. Not for nothing are these the people that embalm folk heros like Evita Peron, making the macabre an element of daily consciousness. While true even before the curtain opened, it's even truer at the end when the dead Lorca and Xirgu, hands entwined to carry a single suitcase, are joined by the San Francisco Girls Chorus, clad in white, bearing their own luggage. This use of children recalls Lorca's argument that an artist's work is never finished; it alway has to continue for the next generation.