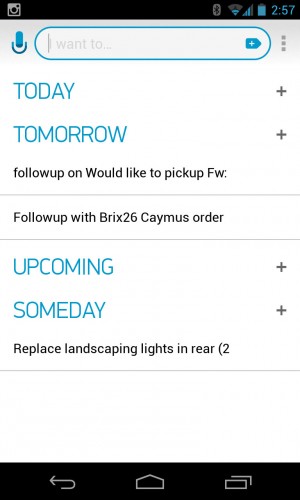 I'm a big post-it note guy. Too much so. I have the yellow stickies everywhere. Most have Diet Coke, red wine, or espresso stains; older to-do lists and memos, cherished veterans that they are, have all three.
But I've never been able to make the conversion to an electronic version of task management.
Although there are several decent apps out there (for both Android and iOS), I've always felt most were simply "islands" of information, requiring me to login and manage tidbits of my life in yet one more location. Mostly, I just enter reminders into Gmail and fire them off to myself. Crazy, but it works!
Enter Any.DO.
What I like about this task management app is its integration across the web, Gmail, and, of course, the app itself. After a week or so of testing I'd say this could become indispensable.
All the basics are here. You can add a to-do, and assign a time frame using one of four options: today, tomorrow, upcoming, or someday (I like that one… so little pressure).
Download Any.DO
You can assign high priorities ("!!") to items, move them to folders, drag and drop order, etc.
But what I've come to especially like about Any.DO is the way I can enter reminders right from within Gmail itself:

At first I was skeptical. Do we really need yet one more app snooping around our Gmail inboxes? Now, as they say, I'm a believer. Instead of having to either manually write something on an old school Post-It, or pop out of Gmail and record a reminder or task in a separate app, I can quickly enter it right into the Any.DO bar within the email.
Performance has been spot on. As soon as I enter a task using either the app on my Nexus 4, or the Web, or, as is increasingly my favorite method, via Gmail, it's instantly synced.
ALSO: Best Android Twitter Apps
I also like the "Any.DO Moment" feature which helps you get your day under control with a pop-up reminder of tasks. It slides neatly from the bottom of the Android user interface. You can set the days of the week and time you'd like to see it. I may eventually switch if off, but for now I'm giving it a go.
Another thing the development team has done well is the user interface. It's clean, simple; a refreshing break from the power organizers out there that overwhelm with too many features (the Microsoft Word approach).
I wouldn't bet that it will replace all of my Post-Its – there's something comforting about having them lying about – but for all my day-to-day stuff, Any.DO is now my go-to app.