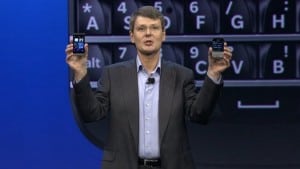 Verizon has confirmed that the just launched BlackBerry Z10 smartphone — the first to run the company's new BlackBerry 10 operating system — will sell for $199 with a two-year contract beginning March.
T-Mobile, Sprint and AT&T will also carry the highly anticipated phone as CEO Thornsten Heins mentioned today in his presentation this morning in New York. No pricing or dates from the other carriers has been confirmed at this point- though it's likely we'll know by the end of the day.
Contrary to some earlier reports, the Z10 will be available in both black and white (only on Verizon).
Specs include a 4.2-inch display (1280×768, 356ppi), dual-core CPU 1.5GHz, 2GB of RAM, 16GB  storage, microSDslot, 8MP reare camera (1080p) and 2MP front.
The biggest feature of the Z10, of course, is that it runs the brand new BlackBerry 10 operating system which was demoed in-depth today at the launch.
Key features of the new OS include Hub (a centralized notification system for easily managing alerts without having to launch apps), Flow (a gesture-based navigation metaphor that doesn't require physical buttons), and Balance (for managing separate personal and business profiles on the same device).
In addition to the Z10 phone and BlackBerry 10 operating system, RIM also announced it was changing its name, and would be known simply as "BlackBerry" moving forward.
BlackBerry will face stiff competition. $199 on Verizon currently buys the well-reviewed HTC Droid DNA featuring Android Jelly Bean and a 5-inch HD display, or the Apple iPhone 5 featuring every possible app under the sun.