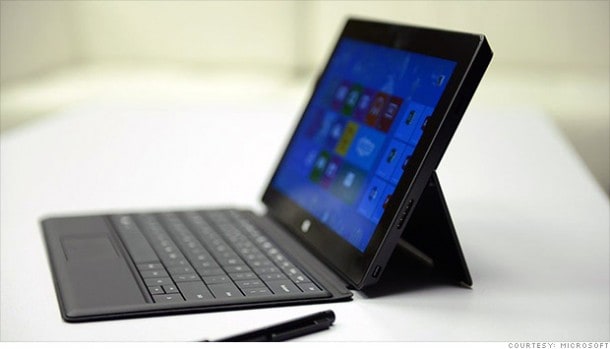 In just a few weeks time we'll find ouf it Microsoft's more powerful follow-on to the slow selling Surface RT will turn its fortunes around in the hotly contested tablet market. Pegged at $899 for 64GB of storage, the Surface Pro will ship February 9 according to Microsoft. Originally the company planned to ship the Surface Pro in January. No reason was given for the slip.
Specs include a 10.6-inch high-definition display, Intel Core i5 processor, 4GB RAM, 64GB internal storage,  microSDXC slot, and pressure sensitive stylus. A 128GB model will go for $999.
MORE: Microsoft Surface coverage
Unlike RT, the Pro model runs a fully functioning version of Windows 8. This means, again unlike RT, that you can run any Windows 8 software on the device in addition to the "Modern" (previously "Metro") apps that run in full screen and are designed exclusively for the touch screen. Adding a touch cover ($12o) or touch keyboard ($130) converts the tablet into a device competitive with ultra-books in terms of performance and price.
Surface Pro is 0.53 inches thick and weighs two pounds, which could prove popular with road warriors that would rather carry one device in lieu of a laptop and tablet.
Meanwhile, Apple will soon ship an iPad 5 and Google is reportedly working on an updated version of its Nexus 10 tablet.