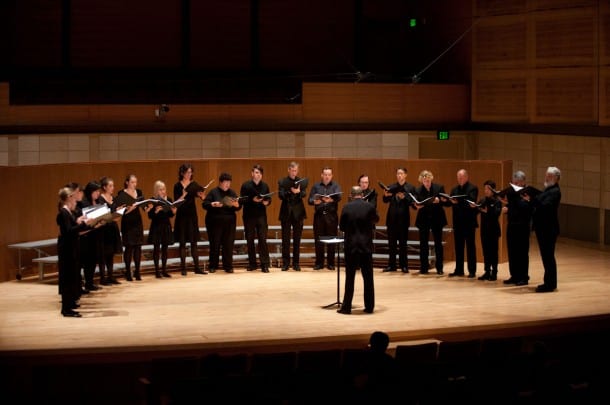 Roughly a year ago, editor Clint commented that we at Stark Insider drive furiously up and down the Peninsula, charging from event to event to bring you, humble reader, the best of this glorious Bay Area. That's more or less true – and it's why I immediately seized the opportunity to catch Volti at All Saints Episcopal in Palo Alto, a mere half mile from home. Little did I realize I'd spending the better part of the concert in the lobby trying to silence my recalcitrant lungs from a recent bout with bronchitis. Illness notwithstanding, the evening was perfect. While the audience in Palo Alto was small, here's hoping that Volti joins the other classical groups who find regular venues in the South Bay.
Many folks, including lovers of classical music (who really should know better), often shrink back from choral music, not wanting to get mired in what they fear is the sameness of the sound. This fear isn't entirely unwarranted. A steady diet of Josquin or Tallus, beautiful as they are, becomes numbing. However, numbing is the antithesis of Volti.  This new music chamber chorus boldly creates audacious dissonances, combines them with angelic harmonies and unnerving rhythms, and delivers them right over the plate.
The evening opened with Song of Lowly Life, which Volti commissioned Stacy Garrop to compose in 2011. Drawing upon five poems by Paul Laurence Dunbar 91872-1906), Garrop's composition was a brilliant showcase for the varied strengths of Volti. Linked only by the conversational tone of the text, each piece was wildly different from that which preceded it, with an amalgam of vocal textures.
Songs of Lowly Life was followed by a group of love songs, entitled Cancionera Amoroso, composed by Armando Bayolo. Like Songs of Lowly Life, the five pieces (which also included a piece of Paul Lawrence Dunbar), were strikingly different from each other. One of those most notable of these pieces was after a text by Stéphane Mallarmé. Mallarmé, whose work influenced everyone from Debussy to Ravel to Boulez), was a perfect choice. Voices flowed down, with the grace of falling leaves, only to be greeted by clusters of other voices, bringing a strange urgency to the composition.
Most striking was Dipuku Rauda. Gutteral, fricative, explosive tones, perfectly joined together like some kind of demented basso continuo formed the sounds of a steam locomotive and propelled the work forward underneath a chorus of soprano and alto voices forming the train whistle. This "displaced persons lament" uses a Lithuanian text from the opera Julius, composed by Charles Halka.
ALSO: She's back! China Forbes and Pink Martini
The evening ended with a long composition by Shawn Crouch that alternated sections by Rumi with other poems. The piece began with a chant that didn't resolve, leaving the door open for the stanzas that followed. Tones rise up unexpectedly in the first stanza (such as on the words crow-like), only to pause in near silence two lines later. If done by anyone else, such phrasing would be merely odd, but as performed by Volti, becomes something that needs to be heard again and again. This intentionally idiosyncratic phrasing follows through the entire piece, grabs your attention and forces you to marvel. Echoes resound, allowing ends of lines to fuse with beginnings, until the piece ends with the single voice of Eric Tuan.
The good news is that the first and last pieces of this concert will be recorded for subsequent release. This is particularly excellent because the voices of Volti travel well in recordings. In this respect they different from many other new music composers worth going out of your way to hear, who don't necessarily make the transition from concert hall to recording. Intellectually rich, emotionally sustaining, and musically diverse, this is music that you want to listen to again and again.