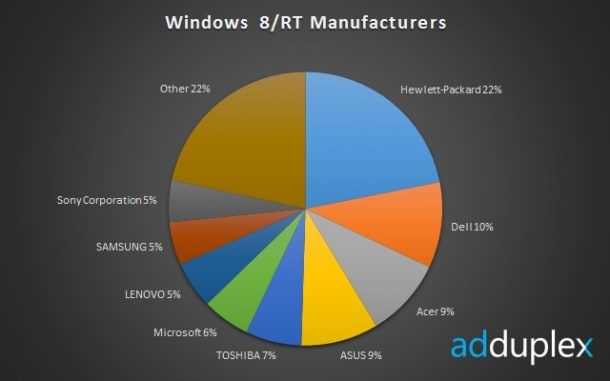 A good bit of news today for a company that could use it. Hewlett-Packard (HP) is the world's leading supplier of Windows 8 based devices. According to AdDuplex, an online ad service, HP accounted for 22% of the market. Dell is in second, but trails significantly with 10% share. Rounding out the top five are Acer (9%), Asus (9%), and Toshiba (7%).
Popular HP models running Windows 8 that have found their way to eager buyers include the Pavilion series of laptops, and the touch-based ENVY.
Running on 6% of all Windows 8 devices, Microsoft's Surface RT tablet still leads the pack when it comes to a specific model AdDuplex measured running the new, and controversial, operating system.
The data is based on a twenty-four period when data was collected from active users only.
Depending on which sources you believe, Windows 8 is, according to Microsoft, either outselling its predecessor Windows 7, or, according to industry analysts, underperforming and falling short of expectations.
HP, which took a very public $8.8 billion write-down on its Autonomy acquisition, is struggling to right a core business that has been blind-sided by the rapid shift of the PC market from desktops and traditional computers such as the laptop to mobile devices such as tablets and smartphones. In particular, Apple and Google have benefited the most from the mobile hungry consumer market.