One of my all time favorite recipes appears to also me a favorite among our readers here on Stark Insider. There's probably good reason why this Clay Pot Turkley recipe has stood the test of time: it's incredibly delicious. Also, many tell me it's surprisingly easy to make. In fact, when I re-visited the recipe, I realized that I had explained how to achieve Thanksgiving magic in only 7 steps.
While I can't guarantee the quality of your company (you're on your own!) I can hopefully increased the odds of the quality of the dining experience on this special occasion.
I don't like single-purpose kitchen equipment so you'll never find an ice cream maker or a waffle maker in my kitchen. However, one exception I make to this rule is my Clay Pot which sits quietly on a top shelf in one of my cabinets and only makes an appearance once a year, in time for Thanksgiving.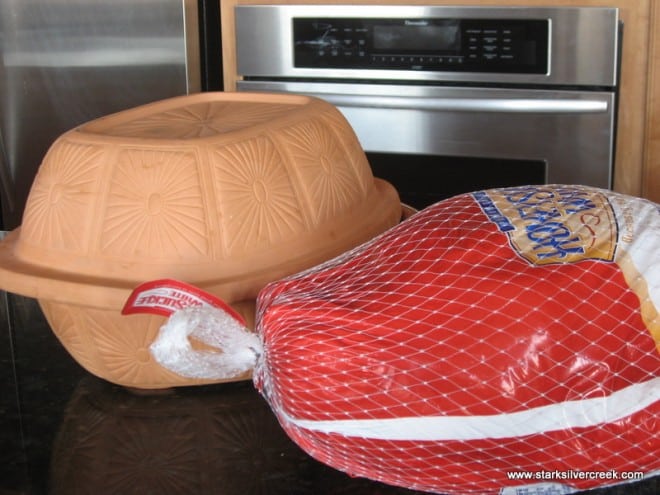 For those who search for the ultimate juicy, tender turkey, put away your traditional roasters and basting brushes, because when it comes to ensuring a moist bird, the clay pot reigns supreme.
Here's the 7-step summary:
Loni's Ultimate Clay Pot Turkey Guide

Hint: if you don't already own a clay pot see here for a reasonably priced one I like.

Step 1: Defrost and Prep

Step 2: Soak the Clay Pot

Step 3: To Stuff or Not to Stuff

Step 4: Placement of Turkey in Clay Pot

Step 5: Sending your Turkey Off into the Oven

Step 6: The Ultimate Gravy

Step 7: Enjoy the Ultimate Clay Pot Turkey
That last step probably doesn't need a whole lot of explanation. I do, however, give tips on roasting times, stuffing, and also information on the clay pot itself – obviously a critical part of this whole shindig.
Click through to read my entire Clay Pot Turkey Recipe. Happy Thanksgiving!