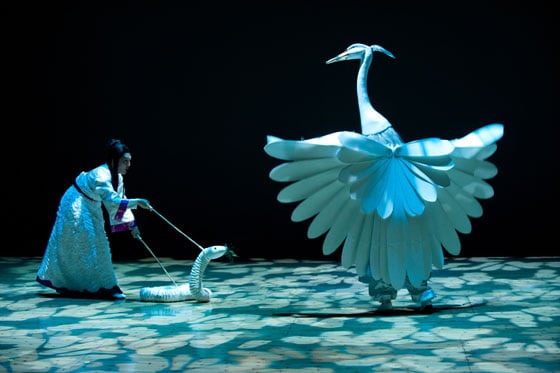 Ssssssssumptuous. Sssssssspellbinding. Sssssssstunning.
Forgive me, for I've been charmed by a snake. That would be The White Snake. Based on a legendary Chinese fable ("Legend of the White Snake"), Mary Zimmerman has smartly adapted the oral tradition into an artistic powerhouse of a production now playing the Berkeley Rep. As a LORT (League of Resident Theaters) member, and with one of the largest — if not the largest — budgets in the SF Bay Area, the Rep has a one-up when it comes to the potential for raising the bar. But money doesn't always buy greatness; however, in this case, once again, it extends an epic winning streak and stages a show that is a grand feast for the senses, and a through-and-through must see.
This could've just as easily taken place at The Faultline in Sunnyvale. I know how this goes. I'd be sitting there, enjoying a pint of Hefeweizen, waxing poetic about 'the it girl'.
Leading a love-torn struggle across a lavish landscape of Chinese culture, and tradition, are an unlikely duo: a bride (Amy Kim Waschke), an aristocrat who runs a pharmacy, and Xu Xian (Christopher Livingston), an unwitting, doe-eyed commoner who doesn't realize his doting wife has more than just a bit in common with serpents and such. Little does Xu know that in fact his wife is a snake who has taken human form, thanks to thousands of years of preparation. Seeing through the scheme, a powerful monk (a terrific turn by Jack Willis) tries in vain to expose the white snake for its true self. What follows is a delectable Shakespeare-meets-visual-poet mash-up. Misunderstandings ensue, love endures. Maybe.
Many refer to the story as "profound." Yet I have another take on it. Like, how many times have us guys fallen for a woman who turns out to be a snake? This could've just as easily taken place at The Faultline in Sunnyvale. I know how this goes. I'd be sitting there, enjoying a pint of Hefeweizen, waxing poetic about the it girl. My best bud, who could be a monk (start-ups are all about the Zen right?), would be trying to convince me of the reality of the "situation." I'm telling' you, man. She's a snake! Profound? Maybe. You make the call; I'd be certifiably insane to question thousands of years of Chinese mythology. For many, though, this is ultimately just another cautionary tale about dating in Silicon Valley.
But never mind that. The story — maybe silly, obviously fantastical, definitely child-friendly — is not the thing with this White Snake (not to be confused with the 80s glam rockers, or any number of the various film adaptations or even the The Lair of the White Worm, a camp classic with some similar, though sexually charged, themes). Regardless, see it for the remarkable visuals and superb sound design. From a Dragon Boat Parade and mountain-top monk retreat to Rain-soaked dances through bamboo forests and night-time celebrations featuring colorful Chinese lanterns, you simply can't be anything but in awe of the rich colors, sneaky shadows, glorious costumes. Kudos to the production team (Daniel Oustling, Mara Blumenfeld, T.J. Gerckens, Andre Pluess, and Shawn Sagady) here for outstanding work. In particular, I've never seen projection work quite like this before. Gorgeous calligraphy, inky backdrops, and distant landscapes bathe the set.
Told over 100 minutes without intermission, the play benefits from rhythm and continuity. Pacing is perfect. In a lick we're entranced and the Roda has us in her grip.
One nit involves the casting. I simply didn't buy the dude-princess chemistry between the two leads. At times, they seemed more interested in their surroundings and predicament, then they did with each other. Consequently, later emotional impact is perhaps lessened a degree or two.
Zimmerman succeeds with the inclusion of well-timed, sly humor that adds modern appeal to material that might otherwise come across as dated.
Chinglish opened Berkeley Rep's 2012-13 season and proved to be the pragmatic prologue. There we witnessed the comical frustrations that can result when an American businessman tries to expand into China. The White Snake follows as a whimsical counterpoint – dreamy, artistic, and poetic, it appeals to our inner romantic. Love is magic. And magic is love.
Berkeley Rep's Snake is a beautiful, welcome capstone to the Year of the Dragon. This charmer won't ssssssoon be forgotten.
Wife as a snake, hmmmm -> 'The White Snake' at Berkeley Rep is Visually Ssssssstunning starkinsider.com/2012/11/review… #lettheshowbegin

— Clinton Stark (@clintonstark) November 16, 2012