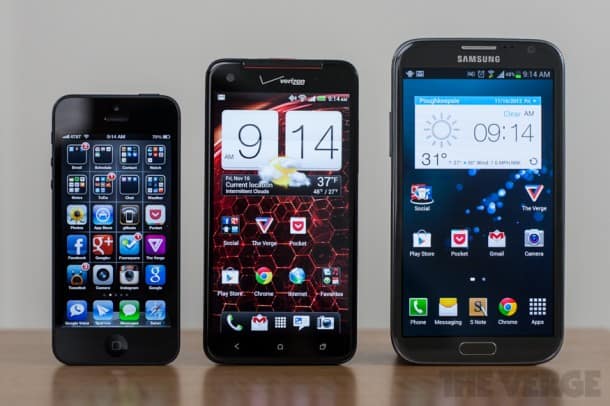 We all had our hunches. That large 1080p 5-inch display. The inclusion of LTE – notorious for battery drain. And then there was that measly 2020 mAh battery powering the phone. Now we know. In one of the first reviews of Verizon's new flagship Droid DNA (made by HTC), our suspicions were confirmed. Battery life stinks. So bad, in fact, that The Verge says that the DNA "requires a trip to the battery charger at least once, possibly even twice, during the day to make it to the evening." Oy vey – is this 2012?!
In their test — cycling through a series of websites and high-resolution images with the screen at 65% brightness — the DNA lasted only 4 hours and 25 minutes. That's obviously very disappointing, and I find it hard to believe that anyone would be willing to overlook such a glaring deficiency. How can you possibly take this phone seriously when it barely lasts half a day? Granted this test may or may not be indicative or real world use; still, it appears HTC was not able to crack the code and use the S4 Pro processor's optimizations to improve battery life. There's just no hiding the fact that large displays consume lots of juice. Any time I've checked battery consumption status on my OG Droid, GNex, and unlocked S II, the display is always the number one culprit for drain.
Many looking to upgrade their Androids will likely opt for the slightly larger Galaxy Note II, or, do what I did and jump on a LG Nexus 4 direct from Google.
It's really unfortunate that HTC didn't decide to include a larger battery – or at least one that's removable. That issue aside, the DNA is a terrific phone (Sense notwithstanding). Gizmodo called it "sick." I agree. The 1080p display is tops in the market, besting all comers. The design is Ferrari-like with red accents, and a thin bezel. And, of course, all the internals are top notch as well. The kicker is that many who wanted LTE in their next flagship had to forgo the LG Nexus 4 (which is only available in an HSPA+ 42 version for AT&T and T-Mobile) and wait instead to see what Verizon had up their sleeve. It will be interesting to see if consumers value display quality over battery life this holiday season.
UPDATE: In their review PCMag gave the Droid DNA 4 out of 5 stars and an Editor's Choice (same as LG Nexus 4). They called battery life "average" and got 10 hours and 40 minutes of talk time, and  5 hours and 22 minutes on a video run down test (finishing last behind the GS S III, and Galaxy Note II). Definitely not stellar results, but maybe palatable for some. If only there was a removable battery to alleviate concerns for those who travel frequently and/or are away from power outlets for extended periods. Regardless, the DNA is pretty sweet kit – if only HTC offered an unlocked version that I could use on T-Mobile I would likely go for this even over the Nexus 4.