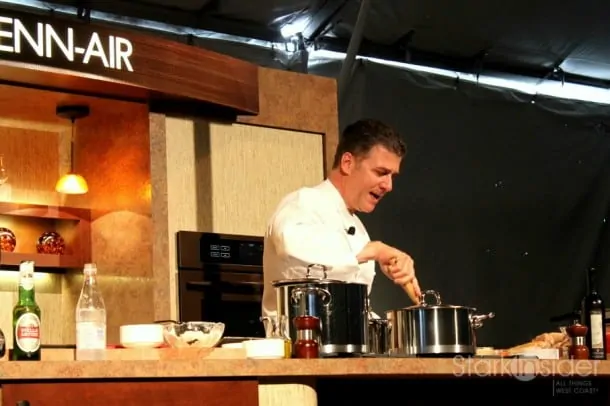 Now that Michael Chiarello has conquered Napa (with the extremely popular Bottega), the star chef has now set his sights on San Francisco, with plans to open a Spanish restaurant.
According to the SF Chronicle, Chiarello has signed a lease for a space along the Embarcadero on Pier 5, joining esteemed neighbors in La Mar and Hard Water, Charles Phan's upcoming New Orleans-style restaurant.
From the piece by Chron's Paolo Lucchesi: "And like the Slanted Door and La Mar nearby, Chiarello wants his place to incorporate that casual, social aspect of eating — a drop-in vibe where you can stop in for three or four small plates at the bar without making a big commitment for a sit-down dinner. Like the tapas bars of Spain."
ALSO: Michael Chiarello speaks on 'cooking as a sport' at Pebble Beach Food & Wine
In addition to his entrepreneurial endeavors, Chiarello hosts cooking shows and operates retailer NapaStyle.
Chiarello plans to open the restaurant in Spring 2013.
Dont miss:
WATCH: Michael Chiarello at the Star Chefs and Vintners Gala San Francisco