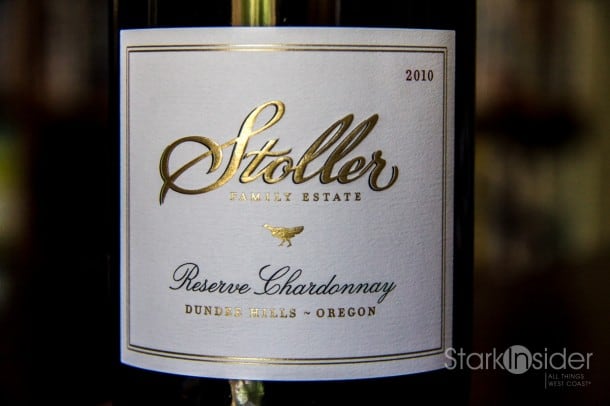 This week we head just north of California, up to the picturesque Dundee Hills in Oregon. Winemaker Melissa Burr of Stoller Vineyards (373 acres) has a bit of a gem on her hands with this beautifully balanced Chardonnay.
If you're looking for a change-up from local Sonoma and Napa wines so readily found throughout the San Francisco Bay Area, give Oregon a shot. The region ranks consistently among the best in the nation (especially for Pinot Noir), and is proof positive of the magical effects of coastal cooling. Dundee, OR, a well-regarded site for quality vines, is approximately the same distance from the Pacific as several appellations in Sonoma County.
Located in the heart of Willamette Valley, Stoller is perhaps best known for their Pinot which they also sent us and represents the majority of their planted varieties (2001 was Bill Stoller's inaugural vintage). And it's a winner too- but being on a Chard kick of late, I couldn't help but want to give this one a mention here on Stark Insider.
Thankfully this is not an over-oaked wine (those days seem to be a distant memory); think light, Fred Austere, balanced. Enough light fruits here — orange, melon, apple — without foraying into the terro(i)r of French art-house cinema. Ahem- yes, well, in other words: there is texture, but it's not in your face about it. I'm told the cooler season in 2010 across the region resulted in sugar levels lower than average; for a guy like me that appreciates straight-up espresso that's potentially a huge plus.
A classy wine that belies its price, I can't help but think the same profile wine here in Sonoma or Napa would cost at least three Jacksons.
Only 883 cases produced of the '10 vintage. Seek it out, and the pleasure is all yours for the taking.
Stoller Family Estate 2010 Reserve Chardonnay

Dundee Hills – Oregon

883 cases, 13.5%

$28, 90 points

More: Stark Sips wine reviews