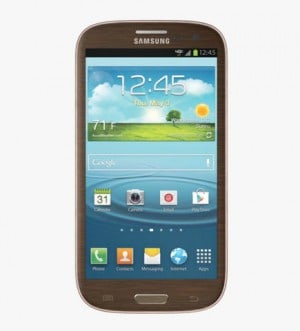 Verizon announced today that the Android mega-hit smartphone known as the Samsung Galaxy S III is now available in two new colors: black and brown. Available for as little as $139, the S III continues to be one of the best alternatives to the Apple iPhone.
Putting aside the controversial aspect of counting "black" and "white" as colors, you'll now be able to pick up an S III from Verizon in one of four colors, including the original "Pebble" blue and "Marble" white.
Unfortunately, Samsung did not get the Halloween memo: orange is still nowhere to be found.
Verizon has held the pricing on the Galaxy S III at $199 with two-year contract (tip: check Amazon where you can get one for only $139).
Features include a 4.8″ HD Super AMOLED Display, 1.5 Ghz Dual-Core Processor, 2GB Ram, S-Voice (Samsung's answer to Apple's Siri), Android 4.0, Ice Cream Sandwich (an upgrade to Android 4.1 Jelly Bean is expected soon) and an 8MP Camera.
Samsung has reportedly sold well over 6 million S III handsets, possibly making it the most successful smartphone int he young history of Google's dominant Android operating system.
At 4.8-inches, the large screen in particular is a clear point of differentiation. Though Apple increased the size of its display with the iPhone 5, it still comes in about 20% smaller – a feature difference that may or may not matter depending on your preference for one hand phone control.
[More information: Galaxy S III 4G Android Smartphone, 16GB]