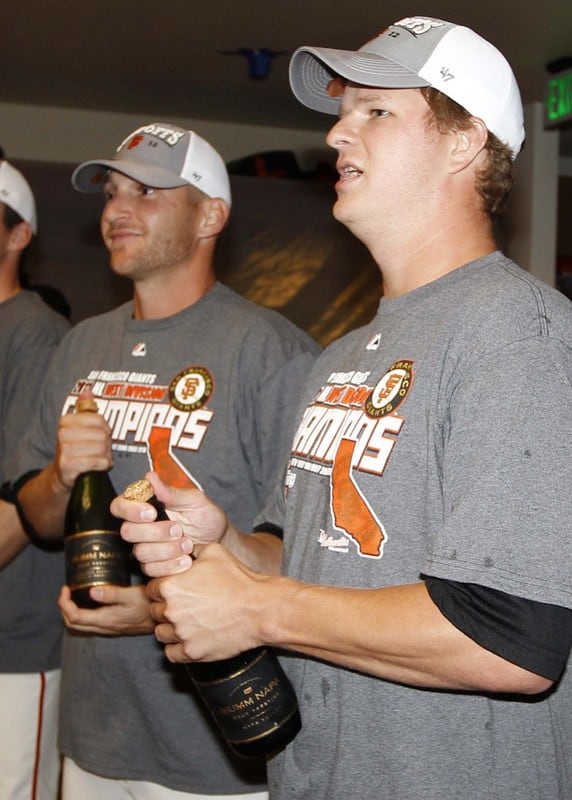 Want to celebrate like a Giant this weekend? Like a N.L. West clinching Giant? Then your wine of choice, just like it was for the San Francisco Giants earlier this week, is Brut Prestige by Mumm Napa.
This sparkling wine of the week, made primarily from Pinot Noir and Chardonnay, pairs well with seared scallops, California rolls (but of course, championships… that's how we roll), and post-pennant winning celebrations.
Don't forget, this is not champagne. We are not celebrating an F1 victory, Robbie Williams' latest record smashing party, or topless Royals.
When in California (or when drinking bubbly sourced anywhere but the  province of Champagne, France) you'll be celebrating with sparkling wine. Seems like the French, unlike Google with Android, are particular about licensing. Regardless, it stings the eyes all the same when you douse your teammate, or spouse.
At only $20, you'll easily be able to buy a few cases of this Napa Valley Brut and not feel bad at all after draining one on the head of your local reporter, and dancing gleefully along the Embarcadero spraying passerbys, "The clinch was a cinch!"
Speaking of "Brut," this does not indicate the fragrance, rather the label descriptor means this sparkler is drier than most others – typically, less than 12 grams of sugar per litre.
How does it taste?
Like a winner- especially at this price point. Then again, nothing tastes better than victory.
But, but, BUT…
Pennants are nice and all, but let's keep our eyes on the real prize.
Stark Wine of the Week

Mumm Napa Brut Prestige

Napa Valley

Winemaker: Ludovic Dervin
40% Pinot Noir
51% Chardonnay
3% Pinot Meunier
5% Pinot Gris
12.5% alc.
$20