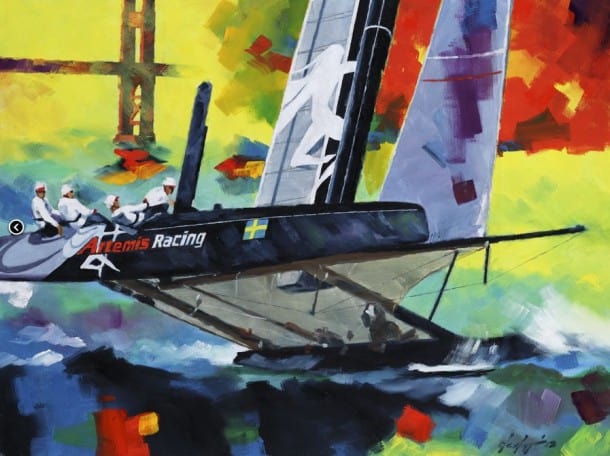 Artist, sailor and nautical innovator Jim DeWitt has been named the America's Cup artist-in-residence by the Golden Gate Yacht Club, the host club for the 34th America's Cup on San Francisco Bay. The Golden Gate Yacht Club also awarded DeWitt an honorary membership for his artistic contributions to the sailing world.
A reception and showing of Jim's work will be held on Thursday, October 18th from 5:30 pm to 9:00 pm at the Point Richmond Art Collective, 121 Park Place, Richmond. The show will include DeWitt's new series of oil paintings depicting competitive sailing yachts on San Francisco Bay. The series includes paintings of Oracle AC45s and competitors racing along the bay against the backdrop of the iconic Golden Gate Bridge.
"I don't paint sailboats, I paint the excitement of sailing," says DeWitt, whose passion for painting is reflected in the authority and honesty of his nautical works. A former sailmaker and competitive sailor, Jim understands the mechanics and the thrill of racing; he is uniquely qualified to paint the subject and has gained broad recognition as one of America's premier marine artists with exhibitions in galleries and museums worldwide. Jim's paintings are on permanent display in many yacht clubs, including the St. Francis Yacht Club and Golden Gate Yacht Club in San Francisco. He was named the No. 1 Marine Artist by the America's Cup Gallery in San Diego in the early 1990s.
Watch: Lady Antebellum, Dana Carvey entertain at concert for UCSF Benioff Children's Hospital (Video)
Before retiring in 1983 to concentrate on painting full-time, Jim owned and operated DeWitt Sails, one of the top racing sail lofts on San Francisco Bay, renowned for custom sails. During his years as a sailmaker, he also gained international recognition as a winning yachtsman and artist. In 1963, he was the first West Coast skipper to capture the coveted Mallory Cup, the emblematic sailing honor awarded to the winner of the US Men's Sailing Championship. In recognition of his achievement, the St. Francis Yacht Club awarded Jim a rare honorary membership. In 1992, he took first place in the International Masters Regatta in San Francisco, sailed in J 24s. And in 2003, coming full circle, he captured the second-place trophy in the Master Mariner's Regatta in San Francisco in a boat designed by his father and patterned after one built in the 1930s in the family's backyard. Jim inherited his father's fascination with boat building, and has designed several boats featuring first-of-their kind sailing innovations.
Jim was born in Oakland, California in 1930. He grew up with the San Francisco Bay as his backyard, and his affinities for art and sailing converged early; as a 5 year-old, he began drawing pictures of the sailboat his father was building and dreamed of someday becoming her skipper. Jim studied art at the California College of the Arts and the Los Angeles Art Center (today the Art Center College of Design in Pasadena).
Review: Restaurant Gary Danko, San Francisco
Jim lives in the bayside hamlet of Point Richmond with his wife Sallie and their dog, Amber. His daughter Pamela DeWitt runs a hometown gallery and custom framing shop where she sells originals and prints of his paintings. He is a grandfather of two and a first-time great grandfather. For more information, please visit www.dewittamericascupart.com.