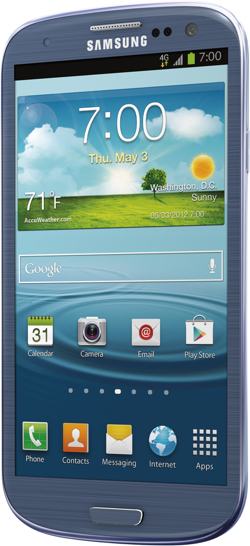 If you're holding out for the new iPhone 5 no amount of deal mongering will likely persuade you, but for those who like their Android, have I got a deal for you. For only $99 you can score the greatest Android of them all, the Samsung Galaxy S III.
The S III features a gorgeous 4.8-inch Super AMOLED display, fast 1.5 GHz dual-core processor, Android 4.0 (Ice Cream Sandwich), high performance cameras (8 MP on rear), 16GB memory, 4G/LTE (even the iPhone doesn't have that… yet), Bluetooth 4.0. You also get an an incredible amount of customization thanks to the TouchWiz user interface that makes this an easy-to-use uber smartphone.
The $99 deal is available right now on Amazon, and applies to all the major carriers, so choose your favorite: Sprint, Verizon, or AT&T (the sale does not apply to the T-Mobile variant from what I can tell). You can also choose from a blue or white model.
Note that, as is always the case, this price is only good with a two-year contract for new customers.
Tech critics have been near universal in their praise of the S III. The Verge calls it a "technological triumph" and Engadget says, "power- and storage-hungry Android user simply cannot go wrong with this purchase, and neither can those looking for a great camera."
As has been widely reported, the Galaxy S III has been a smash hit for Samsung, having sold over 20 million units in just 100 days.
If you've been holding out for the right Android deal to come along — and, again, are somehow immune to the magical forces of Apple and iOS — then a $99 Samsung Galaxy S III looks to be the sweetest one out there right now. Tip: you might want to act fast just in case Apple wins its request to include the world-beating S III in its injunction in the patent infringement case.
[Amazon Wireless S III deal: Sprint, AT&T and Verizon]