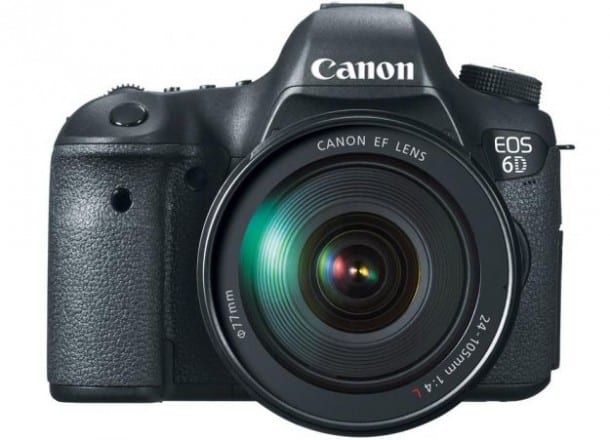 Canon today took the wraps off the EOS 6D, a new full-frame DSLR, at the Photokina trade show in Germany. The 6D brings all sorts of firepower to the battle against Nikon for DSLR supremacy — only us consumers win that one, with amazing cameras available at ever lower prices.
Features include: a 20.2 MP sensor, DIGIC 5+ processor, (4.5 fps), native ISO 100 to 25,600, and for the first time ever in a Canon EOS camera, 11-point AF system with a single cross-type focus sensor (many are extremely disappointed by the absence of a better AF system; see Nikon D600), wi-fi and GPS (neither of which matter to me).
The biggest news related to the 6D announcement is the price. For only $2,099 (body) you get a full-frame, professional grade camera, whose high-end capability even just years ago was only available in the likes of the 5D Mark II. Now you can get similar performance for almost half the price. Canon says it will ship in December.
Across the forums many are trying to figure out where the new 6D slots in to Canon's line-up. From what I can tell it appears most likely to be a new "budget" full-frame model, that slots neatly between the higher end 5D Mark III, and APS-C based EOS 60D.
As is always the case, dpreview has a great hands-on 6D preview, including comparisons with the Canon 5D Mark III, and Nikon D600.
Go full-frame?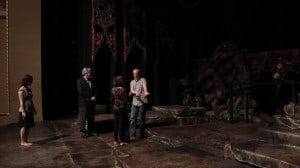 I've been shooting video on a Canon 60D (and before that a T2i) for several years now, and find its performance outstanding (you can see examples at the bottom of this post). I suspect many in the market for a performance/semi-pro DSLR will cross-shop the 60D, 6D and 5D Mark III. Even though each is clearly targeted at a specific market, there's many scenarios where buying the lower cost 60D ($999) and applying the remaining budget, that would have otherwise gone to a full-frame camera such as the 5D, to better glass, upgraded audio gear, accessories and the like. Many, myself included, are probably salivating at the prospect of potentially upgrading their 60D to a brand-spanking new full-frame 6D when it arrives in a few months.
Upon further inspection, however, I still think the 60D is the better all-rounder for video if price is a consideration. If you're a stills-only pro, the 6D is a tantalizing prospect as you can get near-5D performance, at a fraction of the cost. But for video, I'm not so sure the argument is as clear cut.
But just how I contemplated upgrading to a 5D Mark II (and then the Mark III) I realize that the benefits over something like the EOS 60D probably don't warrant the incremental outlay.
6D lacks articulating LCD
There's at least one glaring omission in the 6D that we videographers rely on, and that's an articulating viewfinder. True, indie filmmakers will rightfully rig up external monitors, rendering that shortcoming a non-factor. But for many of us run-n-gun style, street types — who aren't setting shots up — it's at least one area where the 60D is possibly a better choice.
But it wins in low-light
Low-light performance appears (at least spec-wise) to be an area where the 6D will offer significant improvement over its junior sibling.
With a native maximum of 25,600 on the 6D some have suggested you can shoot nearly in the dark. I don't know if that's entirely true, but the sentiment is likely accurate. Meanwhile, the 60D can go up to 6,400 – though you're best trying not to shoot video higher than 800 lest you enjoy noise, and lots of post-production clean-up work. I do a lot of work in dark theaters, and often have little to no control over lighting. Even more challenging is that I need to be in and out in 20-30 minutes. There are exceptions. When I shot this behind-the-scenes segment at Cavalia in San Jose, the crew was generous enough to shut down rehearsals, give me full-on lighting, actors, and even snow (!). Other times, like when I filmed at Opera San Jose in the magnificent California Theatre, the set was darker (but gorgeous) and I had about 25 minutes to get in and be done with the segment (again, perfectly understandable). Because time is of the essence I don't have the luxury of switching lenses; so I rely on a Canon 18-200mm telephoto because of its flexibility. But a stellar low-light performer it is not – in a few situations I've had time to swap in for Canon's nifty-fifty (50mm f/1.8), truly stellar glass. In most cases though I'm at the mercy of the ambient light, hence the attraction of the 6D and its incredible ISO flexibility.
One other advantage to the 6D that will appeal to those shooting video is its ability to shoot up to 30 minute video clips. That's huge in my books. With the 60D I'm constantly running into the 12 minute (or so) time limit. That means a 40-60 minute interview for Stark Insider TV turns into 4-5 clips, all that need to be synced in post, slowing workflow. The 6D would eliminate most – and in some shorter shoots all – of that inconvenience.
Cropped EOS 60D or full-frame EOS 6D?
At the end of the day, if our production budget would allow I'd absolutely go for the EOS 6D. The lack of articulating LCD is a minor inconvenience, but there are plenty of proper workarounds for that. Full-frame performance, of course, is lust-worthy. And its incredible ISO specs (we'll soon find out how well that translates into real world performance) could make it impossible to pass up.
But just how I contemplated upgrading to a 5D Mark II (and then the Mark III) I realize that the benefits over something like the EOS 60D probably don't warrant the incremental outlay. All of those funds can go to better glass (24-105mm is next and 85mm next on my list), upgraded audio (need better lavs, shotgun mic) and stabilizers.
Then again, if I sold that old T2i, listed some of those Argento Blu-Rays on eBay, and dipped into the hockey collectibles…
Mad Men – Vincent Kartheiser Interview
Canon EOS 60D, Eos Rebel T2i, Rode Videomic Pro, Zoom H1s, Adobe Premiere Pro
San Francisco Black & White Ball feat. The Wallflowers, Janelle Monáe
Canon EOS 60D, Rode Videomic Pro, Adobe Premiere Pro
Behind the Scenes at 'Cavalia'
Canon EOS 60D, Eos Rebel T2i, Rode Videomic Pro, Zoom H1s, Adobe Premiere Pro + 1 willing on-air stuntwoman/host