Admittedly, the infamous I-35W bridge collapse in Minnesota in 2007, as both the thematic and scenic backdrop of this superb play, is a perfect metaphor for the "Great Recession."
One wonders, however,  if a story – and a comedy, no less – about the profound psychic toll paid during a period of unprecedented economic failure can offer any important insight before the cataclysm itself has even reached a true bottom, i.e., the bridge is still falling. After all, it's the distance of time away from the event that serves to sharpen perspective.
On the other hand, there's a danger that time can also blunt the memory and dull the pain of our collective agony. Perhaps more than anything, it's the immediacy and raw appeal of Allison Moore's Collapse that gives the material such emotional resonance and undeniable power. It's hard not to instantly recognize in oneself or others the behavior of each character as they struggle to find support and cope with the anguish of an unrelenting free fall.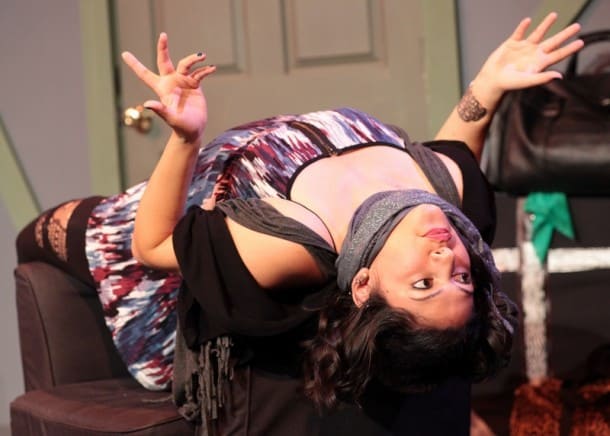 But what makes this Renegade Theatre Experiment production a success is the marvelous cast, anchored by a compelling performance by the luminous Alika Ululani Spencer (Hannah), whose complex and achingly funny portrayal is a case study in desperate vulnerability. Brava!
MORE SF AREA CULTURE & ARTS

Review: 'The Death of the Novel' at San Jose Rep

San Francisco: Cutting Ball Theater opens 14th season with Strindberg Cycle

Stark Insider TV: Vincent Kartheiser of Mad Men discusses "The Death of the Novel"
Sara Luna  (Susan) is simply wonderful, displaying an effortless comedic sensibility as Hannah's free-spirited younger sister. Sean C. Murphy (Ted) evinces a convincing southern charm as the duplicitous sex addict who seduces Hannah.
And David Scott, who plays Hannah's "post-traumatic stress disorder" suffering husband, is solid throughout and provides a rare gravitas and sensitivity to the poignant final scene he shares with Ms. Spencer that attempts to make sense and understand the meaning of what has befallen them.
It's an opportunity for superior live theatre that's not to be missed.