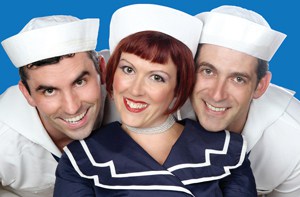 It's no wonder that Cole Porter's Anything Goes has had several revivals since its Broadway debut in 1934 – it's a veritable showcase for brilliant, American pop standards. And its book is a classic example of the early days of musical comedy theatre, with an unmistakable satirical subtext if one wants to look beneath the otherwise clever farce.
The story is much too convoluted to explain, but it involves the madcap antics of a potpourri of passengers (and stowaways) aboard the luxury ocean liner "SS American" that's bound for England. It features the usual stereotypical characters and absurd plot elements, including fun disguises, mistaken identities, unexpected plot twists and a happy, matrimonial ending for any and all matched pairs so inclined. And this South Bay Musical Theatre presentation, under the deft hand of director/choreographer Afton Bolz, does it all with considerable charm and aplomb.
Glenna Murillo, who can truly belt-out a tune like no one else, makes for a convincing Reno Sweeney, the earthy nightclub singer and part-time evangelist, whose affections for the uninterested Billy Crocker (Stephane Alwyan) are inexplicably redirected towards the upper crust British buffoon Evelyn Oakley (Adrien Gleason).
Watch: Lady Antebellum, Dana Carvey entertain at concert for UCSF Benioff Children's Hospital (Video)
Sweeney is a role that Ethel Merman made famous in the original '30s production, and the impressive Ms. Murrillo fills her shoes quite nicely – her first act finale rendition of "Anything Goes" is a certified show-stopper.
Stephane Alwyn's portrayal, both in terms of acting and singing, is a spot-on evocation of the style and essence of a debonair leading man of the period. His mid-Atlantic elocution is impeccable, resisting any temptation to resort to lazy caricature. It's obviously a product of much preparation and personal affinity for the part. Bravo!
Overall, the vocalizations are quite good, with an unexpectedly resonant and dynamic vocal performance of "The Gypsy in Me" by Mr. Gleason, which is sung in duet with Ms. Murillo and sweetly choreographed by Ms. Bolz.
Also see: 'Doubt, A Parable' – Certainty can stifle the truth
And local stage veteran Dave Leon's inebriated, Lockjaw personification of affluent "Yale Man" Eli Whitney, is undoubtedly the comic standout for the evening. I hasten to add, however, that he's given stiff competition for that honor by both Shawn Bender and Kayvon Kordestani-Thompson, as New York gangster "Moonface" Martin and his moll, Erma, respectively.
It's a genuine good time at the theatre.