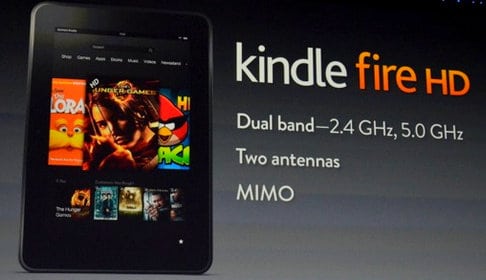 Amazon has upped the ante in the tablet wars today with its announcement of a 5th generation lineup of Kindles including an upgraded Kindle Fire and a new, larger 8.9-inch Kindle Fire HD aimed squarely at the iPad.
The upgraded 7-inch Kindle Fire features twice the RAM, a faster processor, longer battery life, and a lower price. Shipping September 14 the updated Kindle Fire promises up to "40% better performance." In addition, the price has been dropped to only $159 (from $199).
At the unveiling today held in a hangar in Santa Monica, Amazon CEO Jeff Bezos, who has assumed the mantel as the greatest tech showman, proclaimed, "This year we want to have the best tablet at any price."
As was widely expected, the company is going big in an attempt to accomplish that objective.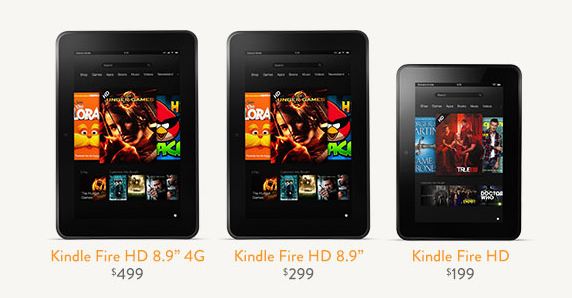 Bezos took the wraps off the 8.9-inch Kindle Fire HD. The larger tablet features a high-resolution 1920×1200 display, in-plane switching (254 pixels per inch), dual speakers featuring Dolby Digital Plus, dual antennas for improved wi-fi performance (up to 31 Mbps), 16GB storage, HDMI out, and is powered by a TI OMAP 4470 processor. Priced at $299 (or about 40% less than the base iPad) it can be ordered today, and ships November 20.
At only 8.8mm thich and weighing just 20 ounces, the new Fire HD could give the Apple iPad a run for the money.
A 7-inch Kindle Fire HD is also available for only $199 and will shop September 14. The competitor here that comes immediately to mind is Google's own Nexus 7 tablet.
Bezos emphasized the unique software advantages of the Kindle Fire HD including Whispersync for games (which keeps your progress in-tact across multiple devices), immersion reading (which allows you to listen to professional narration while reading), X-ray for movies (which enables you to click on an actor for more information sourced from IMDB), custom Facebook and Skype apps, and an "all new" email client with Exchange support, and integration with Gmail, Hotmail and Yahoo.
Citing $499 as the most popular price point, Bezos also unveiled a high-end Kindle Fire with 4G LTE capability. For $49.99 per year, users will get 250GB of data per month, 20GB of cloud storage, and a $10 Amazon Appstore credit. Bezos noted that it would cost about $549 for the year one cost, versus $959 for a similarly featured Apple iPad 3.
Despite the numerous announcements, there was no "just one more thing" reveal of an Amazon Phone as many had speculated. Today's event was squarely focused on e-readers and tablets.
Clearly, Amazon is on fire. With Apple set to launch the iPhone 5 next week, and possibly an iPad Mini after that, and Microsoft set to enter the market with the Surface tablet, the holiday consumer electronics season is already sizzling.