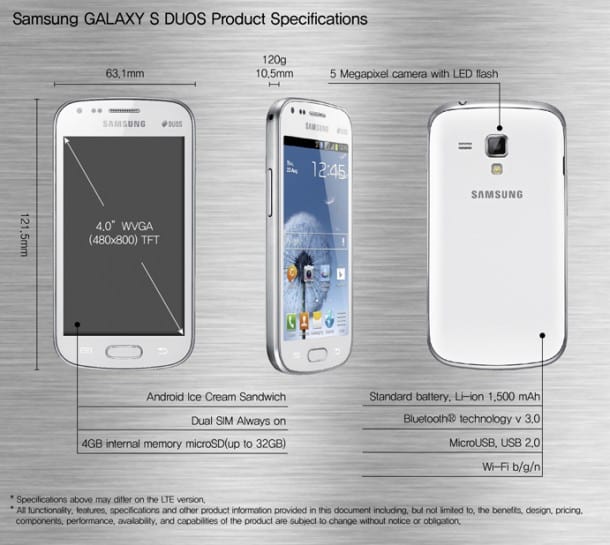 Samsung has revealed its latest Andrdoid smartphone, and it carries an unusual, but tantalizing new feature.
The Galaxy S Duos announced today, enables users to manage two separate phone numbers from the same device. Samsung says, "Dual SIM Always on' feature allows you to receive calls on one SIM number while taking a call from the other, ensuring that you can manage both personal and work commitments without ever missing a call."
Duos will ship with Android 4.0 (Ice Cream Sandwich), a bit of a let down considering Jelly Bean is already on the market and shipping with other devices, notably the Google variant of the Galaxy Nexus smartphone.
Other specs are decent, but clearly position the Duos as a mid-range offering:  4.0-inch WVGA(480×800) TFT display, 1GHz processor, 1500mAh battery, 4GB RAM, 5MP camera. Dimensions: 63.1 x 121.5 x 10.5mm, 120g. Yes, TouchWiz is here.
Design-wise, the Duos bears more than a passing resemblance to the S III, Samsung's flagship Android launched this summer across all major carriers including T-Mobile, AT&T, Verizon and Sprint. At first blush, you might be asking, "Hey, who shrunk my S III!?" A narrow oval physical button defines the navigation controls at the bottom, and is flanked by two capacitive buttons (menu, back). Overall the style is clean, with rounded corners, and a combination of white plastics ("ceramic-like finish"), and silver edging giving the phone an understated yet modern feel.
According to Samsung, the Galaxy S Duos will be available in September starting in Europe. No mention was made of a US release. Price also has yet to be announced, but given the handset's less than leading-edge specs, expect an entry level price point.
SAMSUNG GALAXY S DUO
Stark Take: S III's less muscular, baby brother.