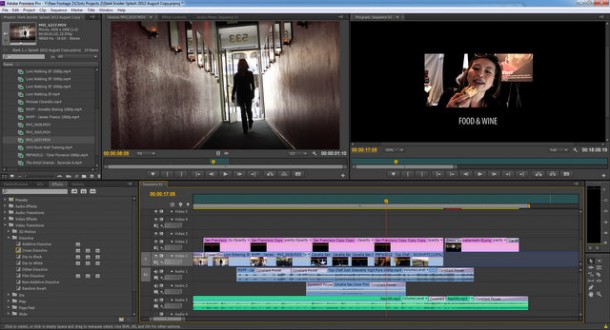 How do you communicate your brand in just 9 seconds using video? That's the challenge I face every year when I update the opening roll (or splash) that we use for Stark Insider video segments. We've just spend a few days and now have unleashed our refreshed 2012 opening for SI that hopefully helps articulate what we're all about in just 9 seconds.
We've been producing these videos on a fairly consistent basis since 2009. As our presence on YouTube has grown – albeit still way small by viral standards – I've focused on tightening our messages. That might sound odd. I mean, why bother?, some might ask. Just publish your stuff, and let the masses discover, and decide what it's all about. True, spray and pray might work. Yes, that's exactly what we've done over the years, and we've stumbled across a niche audience that returns to our stuff – for better or worse. But the issue we have on SI (it's true of our content and place in the online world in general, not just videos) is that we're a multiple topic web site. So I relentlessly bang my head on the wall wondering how we can tighten our scope, increase focus, and sharpen message… all in an effort to help new visitors understand what we do, and improve my chances of gaining a subscriber or repeat visitor. It's a difficult thing I've discovered.
Then there's the technical challenge of putting together what amounts to be a 9 second highlight reel. And that is: culling through 3 years of content (over 1.5TB of often poorly sorted files across several hard drives), identifying the most relevant bits and then cutting it with Adobe Premiere Pro into what you see here.
When I bemoan the length of time it takes to edit and cut together a typical SI video (usually about 6 hours not including the actual shooting), Loni says, "Well, just keep it short then!" But anyone who's sat in a dark editing room, scrubbing a timeline while going slightly mad, bereft of creativity, drowning in clips… knows it's the short ones that are often the hardest.
Stark Insider Opening Splash 2012
Anyways, enough poop already, here's 5 thing I learned putting our opening roll together, and updating it for 2012.
1. Viewer patience is wickedly short
Our original splash from 2010 was 4 seconds. But that was just a logo and sub-title. For those that didn't know us, I wanted to try to get some personality across (whether I succeeded or not I'm not so sure) so I doubled that to 8 seconds, then bumped it to 9 seconds for this version. Every second matters. Most who visit a video on YouTube want it right now. Give me the juicy stuff. Then they're off.
2. Vulnerability can be good
I like that not everything we do is not perfect. Instead of masking it, I try to embrace our gaffs (one of our mottos is "Twice as Fun… But only half as smart." – no one in Walla Walla gets this at all); I continually cringe at our goof-ups — there are many — but, hey, this is a journey!
3. Name dropping is a tricky device
We debate this one. How much star power — faces of famous people — should you use? That's a tough call. I'm not a huge fan of society type pages. On the other hand, we do cover film festivals, and using a celebrity can draw views and interest. So, yes, we've included a few year, but mostly I've tried to keep Loni as the central theme, after all that's the Stark factor (though she continually cringes that there's too much of her).
4. Avatars are cute, but real people make connections
Many video openings I've seen across the web feature a avatars or a cartoon in combination with graphics. Many are incredibly slick. I like them. But for us, I went with the rough and tumble look of real people doing real things.
5. Perseverance helps (so does having a thick skin)
We we started this site as StarkSilverCreek in 2006, and then relaunched it as Stark Insider in 2009, we realized that it was a marathon, and that we would not take any shortcuts. Growth, even at times slow, is fine with me. As long as we do our best to retain quality. The work hours for producing this stuff is insane, and easily the hardest thing I've done since I moved to Silicon Valley from Canada in 1998. But the hustle is the thing, and I love it.
Here's the old 4 second splash from 2010:
How to Taste Wine with Andrea Immer Robinson (shot in Walla Walla)