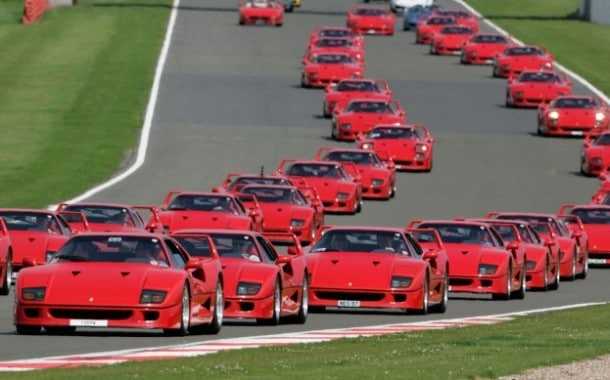 Indeed, get your "drool cup" ready.
Remember the Ferrari F40? It came out in 1987 and wowed the automotive universe. Sort of like how the Enzo did years later, or more recently the insanely wicked Bugatti Veyron. These aren't just cars, or even supercars. They're extreme icons, living proof that our lust for the uber exotic and outlandish is alive and well.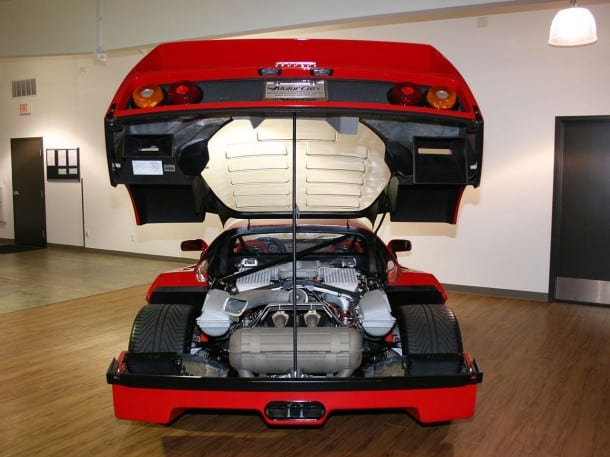 It was spec'd to the max, and at the time was (as would become common refrain) the most powerful Ferrari to date: a twin-turbo charged V8 making 471-horsepower, 0-60 in 3.8 seconds, a top speed just north of 200mph (the first legal road car to break that speed barrier).
To these eyes the F40 isn't the prettiest to come out of Maranello. But with its low profile, large fixed wing, and translucent louvers over the rear window, it's certainly one of the most purposeful.
I happened upon this photo above (and also video, see below) of the landmark Ferrari on Motor Trend and thought I'd share it here. As the author writes, "seeing just one Ferrari F40 is enough to leave a lifetime impression." Here, here. So imagine seeing 60 of them, wailing. Such was the case on a recent race day. Ferrari clubs are quite common. In the Bay Area, for instance, Santana Row is a popular gathering spot for owners. The juxtaposition is grand: real-life scarlet Italians dancing in front of the faux facades of a planned consumer destination.
Only 1,300 or so F40s were ever made. 60 of them in one spot represents about 5% of the total production, all in one place, on the same day.
Curiously, I did a quick Google, and checked eBay. How much is the F40 going for these days?
Hotwheels examples, I learned, go from $1.50.
The real deal is much harder to source, with — not surprising given its rarity — just one F40 listing on eBay. Starting bid is $550,000. No bids have yet been placed (after all, there's no Bluetooth or iPhone dock). This could be chance folks! Plus it's certified with only 7.400 miles! Jump in and let's do lunch at the Left Bank in Santana Row.
WATCH: Largest parade of Ferrari F40 the world has ever seen