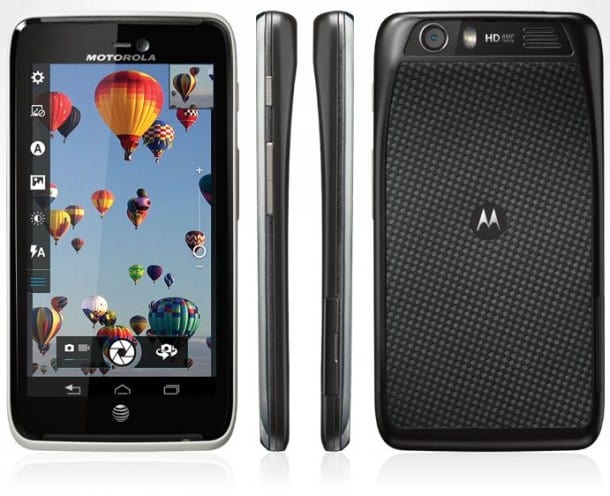 Though leaked earlier via a page prematurely published on the Motorola web site, AT&T today has formally announced the new Motorola Atrix HD.
Fans of the RAZR will see a lot to like here.
By all accounts, it looks like a winner, and if you're in the market for an Android this should be on your short list. Motorola tell us the new model is "slimmer, stronger and smarter than ever before." It's all about the "s". We would also call this a "super" deal.
For only $100 with two-year contract commit (which is the same as the Atrix 2), you get a 1.5GHz dual-core CPU, the well-regarded Android 4.0 (aka Ice Cream Sandwich), 4.5-inch HD  display (720×1,280) , 8MP rear-facing camera with 1080p HD video recording capabilities at 30 frames per second and zero shutter lag, a front-facing 720p HD camera, 1780 mAh battery and 8GB memory.
In addition, Motorola is including a new feature called "Smartactions" that allows you to customize the behavior of the phone depending on time of day, or location.
A real sweetener is the inclusion of a free car dock. Per Motorola the goal is "to raise awareness of responsible driving" in reference to the phones ability to read your text messages aloud, auto-reply to incoming calls and texts as well as provide turn-by-turn navigation, when placed in the dock.
Fans of the RAZR will see a lot to like here.
The Atrix HD is only 8.4mm thick, and its design resembles the RAZR, including not only the profile view, but also the (welcome) decision to include Kevlar along the backside. Design here, like a lot of Moto devices, is top notch (or in Moto's words, "the ultimate in craftsmanship"), and robust.
One thing Moto didn't yet reveal: a launch date.
We'd expect very soon, as in the coming week. Sign up here to be among the first to know.
Thumbs up for the price, design and specs (again, keeping in mind price). We'll have to wait to see if our positive initial impressions hold true when we get our hands on one.