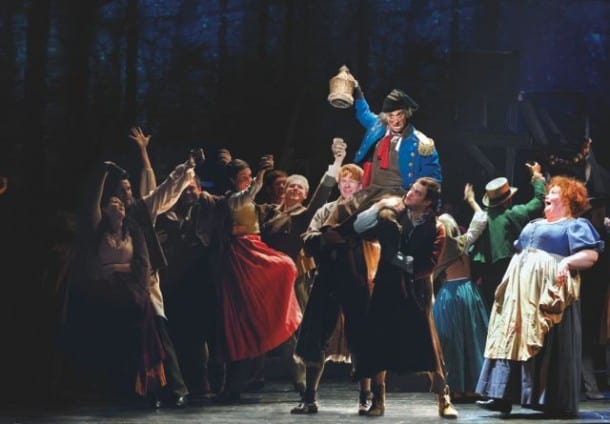 A 25th anniversary edition of the third longest running Broadway show in history is coming to town this summer.
Boublil & Schönberg's legendary musical Les Misérables opens next month at the Orpheum Theatre in San Francisco as part of SHN's 2012 season. Other high profile shows from this year's line-up that have enjoyed Broadway runs include American Idiot (review), The Lion King and Wicked.
Les Miz, set in early 19th century France, won eight Tony Awards and is widely regarded as an essential musical. the plot follows the stories of many characters as they struggle for redemption and revolution. An ensemble that includes prostitutes, student revolutionaries, factory workers, and others joins the lead characters. Based on Victor Hugo's classic novel, the material is often characterized as an uplifting story about the survival of the human spirit.
According to sources, Cameron Mackintosh will present a brand new 25th anniversary production of with new staging and reimagined scenery inspired by the paintings of Victor Hugo.
MORE SAN FRANCISCO STAGE

A New Kind of Tension: 'American Idiot' at the Orpheum

Marin Shakespeare Company opens summer festival with 'King John'

Quintessentially American: 'Nixon in China' at San Francisco Opera
The score which won a Tony for Best Original Score includes the classic songs "I Dreamed a Dream," "On My Own," "Stars," "Bring Him Home," "Do You Hear the People Sing?," "One Day More," "Empty Chairs at Empty Tables," "Master Of The House" and many more.
Opening in Broadway in 1987, the original run closed sixteen years later after 6,680 performances.
The SHN production is directed by Laurence Connor and James Powell. Costume Design by Andreane Neofitou, Lighting Design by Paule Constable with Set and Image Design by Matt Kinley.
Les Misérables opens July 11 and runs through August 26.