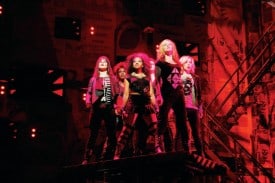 If you missed the white hot smash hit American Idiot, you're going to get a second chance when it returns to the San Francisco Bay Area in 2012. That show plus six others were just announced as part of SHN's 2011-12 season.
Other shows include Hair, Bring It On, The Caretaker, Les Miserables, War Horse plus a seventh yet to be announced. But it's likely American Idiot, a musical based on the epic album of the same name by grammy award-winning band Green Day (of Oakland) that will likely receive most of the attention.
"Announcing the new SHN season is always a thrill for me," said Carole Shorenstein Hays, President and Founder of SHN.
"And the 2011-2012 season is especially exciting as we bring American Idiot back home to the Bay Area in the same season we present War Horse, a smash hit in London now captivating Broadway. My ongoing commitment to ensure that San Francisco continues to be an important destination for the most dynamic theater productions to play is underscored by presenting shows like The Caretaker, Hair, the new Les Miserables and a brand new musical, Bring It On."
American Idiot premiered in Berkeley in 2009 where it received world-wide attention and played to packed houses at the Berkeley Rep Theatre (and received several extensions). Then it enjoyed a successful Broadway run, and in February of this year the production won the Emmy for Best Musical Show Album.
SHN 2011-12 Season

HAIR: The American Tribal Love-Rock Musical

October 25 – November 20, 2011
Golden Gate Theatre (1 Taylor Street at 6th & Market)

This production of HAIR returns to Broadway's St. James theatre and then comes to San Francisco. With a score including such enduring musical numbers as "Let the Sun Shine In," "Aquarius," "Hair" and "Good Morning Starshine," HAIR depicts the birth of a cultural movement in the 60's and 70's that changed America forever.   The musical follows a group of hopeful, free-spirited young people who advocate a lifestyle of pacifism and free-love in a society riddled with intolerance and brutality during the Vietnam War.  As they explore sexual identity, challenge racism, experiment with drugs and burn draft cards, the show resonates to contemporary audiences with an irresistible message of hope more than 40 years after it first opened on Broadway.

HAIR won the 2009 Tony Award for Best Musical Revival as well as the Drama Desk, Drama League, and Outer Critics Circle award for Outstanding Revival of a Musical. HAIR was also nominated for an additional seven Tony Awards including Best Direction, Best Choreography, Best Costume Design, Best Lighting Design and Best Sound Design. The cast recording was also nominated for a Grammy Award for Best Musical Show Album.

Directed by Diane Paulus and choreographed by Karole Armitage, HAIR features a book and lyrics by Gerome Ragni and James Rado and music by Galt MacDermot.

BRING IT ON: The Musical

December 15, 2011 – January 7, 2012
Orpheum Theatre (1192 Market Street at 8th)

BRING IT ON: The Musical is part of the ongoing effort by SHN to bring newly conceived productions to the Bay Area. This brand new musical comedy raises the stakes on over-the-top high school rivalries. Set against the world of competitive cheerleading, this powerhouse new show hilariously proves that winning isn't everything when it means losing something – or someone – you really care about.

BRING IT ON: The Musical has brought together some of the freshest and funniest creative minds on Broadway, including Tony Award-winning writer Jeff Whitty (Avenue Q); Tony Award-winning composer Lin-Manuel Miranda (In The Heights); Pulitzer Prize and Tony Award-winning composer Tom Kitt (Next to Normal) and lyricist Amanda Green (High Fidelity); Tony Award-winning orchestrator Alex Lacamoire (Wicked); and Tony Award-winning director/choreographer Andy Blankenbuehler (In The Heights).

This entirely original musical comedy combines an exciting new sound, gravity-defying choreography, and a thrilling story to create a total theatrical event worth cheering for. Game on.

THE CARETAKER

Harold Pinter's Classic

March 28, 2012 – April 22, 2012
Curran Theatre (445 Geary Street)

Jonathan Pryce, the two-time Tony Award-winning actor of stage and screen, stars in this new production of Harold Pinter's acclaimed play, THE CARETAKER. In this production, Pryce joins the pantheon of legendary actors who have played the part of the enigmatic drifter, Davies. This production, which first opened at the Liverpool Everyman Theatre in October 2009 and then moved to London's West End, was acclaimed as one of the finest-ever productions of the play.

Harold Pinter, described as an original, disturbing, and arresting talent, brings the play's three characters to life in one of his greatest psychological dramas. An elderly tramp finds lodging in the derelict home of a mentally challenged younger man and his brother – their interactions expose their struggles and fears, alternating between terror and hilarity to create and almost unbearable edge of tension.

THE CARETAKER is directed by Christopher Morahan with Set Design by Eileen Diss. Costume design is by Dany Everett, Lighting Design is by Colin Grenfell and Tom Lishman is the sound designer.

GREEN DAY'S AMERICAN IDIOT

June 12 – July 8, 2012
Orpheum Theatre (1192 Market Street at 8th)

Coming home to the Bay Area, AMERICAN IDIOT, a 2010 Tony Award-nominated Best Musical and 2010 Grammy Award winner for Best Musical Show Album, features the music of Green Day with the lyrics of its lead singer Billie Joe Armstrong. The book is by Armstrong and Michael Mayer and direction is by Tony Award-winner Mayer ("Spring Awakening").

Called "the first great musical of the 21st century" by critics, AMERICAN IDIOT tells the story of three lifelong friends, forced to choose between their dreams and the safety of suburbia. Their quest for meaning in a post 9-11 world leads them on an exhilarating journey. Through incredible spectacle, thrilling performances and with the hope embodied by a new generation, AMERICAN IDIOT ignited Broadway with a dynamic jolt when it opened.

The musical features the hits "Boulevard of Broken Dreams," "21 Guns," "Wake Me Up When September Ends," "Holiday" and the blockbuster title track "American Idiot" from Green Day's 2004 Grammy Award-winning, multi-platinum album. Also included in the score are several songs from Green Day's 2009 release "21st Century Breakdown," and an unreleased love song, "When It's Time."

AMERICAN IDIOT premiered at Berkeley Repertory Theatre in September 2009 and played through November of that year. In April 2010, the musical opened on Broadway where reviews were unanimously positive with Charles Isherwood of the New York Times calling the show "the most adventurous musical to brave Broadway in the past decade."

LES MISERABLES

July 10 – August 5, 2012
Orpheum Theatre (1192 Market Street at 8th)

Cameron Mackintosh presents a brand new 25th anniversary production of Boublil & Schönberg's legendary musical, LES MISÉRABLES, with glorious new staging and dazzlingly reimagined scenery inspired by the paintings of Victor Hugo.  This new production has been acclaimed by critics, fans and new audiences and is breaking box office records wherever it goes.

Based on Victor Hugo's classic novel, LES MISÉRABLES is an epic and uplifting story about the survival of the human spirit.  The magnificent score of LES MISÉRABLESincludes the classic songs "I Dreamed a Dream," "On My Own," "Stars," "Bring Him Home," "Do You Hear the People Sing?," "One Day More," "Empty Chairs at Empty Tables," "Master Of The House" and many more.

This production is directed by Laurence Connor and James Powell. Costume Design byAndreane Neofitou, Lighting Design by Paule Constable with Set and Image Design byMatt Kinley.

WAR HORSE

August 1 – 26, 2012
Curran Theatre (445 Geary Street)

The National Theatre of Great Britain's epic WAR HORSE is now Broadway's biggest hit play. Hailed by The New York Times as "Theatrical Magic," WAR HORSE is the powerful story of young Albert's beloved horse, Joey, who has been enlisted to fight for the English in World War I.

In a tale the New York Daily News calls "spellbinding, by turns epic and intimate," Joey is caught in enemy crossfire and ends up serving both sides of the war before landing in no man's land. Albert, not old enough to enlist, embarks on a treacherous mission to find his horse and bring him home. What follows is a remarkable tale of courage, loyalty and friendship, told with the most astounding and innovative stagecraft of our time.

WAR HORSE, based on the beloved novel by Michael Morpurgo and adapted by Nick Stafford, directed by Marianne Elliott and Tom Morris, and presented in association with Handspring Puppet Company, is filled with stirring music and songs. At the heart of the show are life-sized puppets which bring breathing, galloping, charging horses to thrilling life on stage.