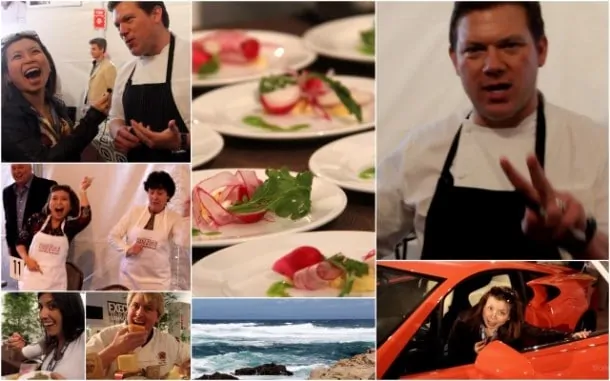 Chef Tyler Florence, who kicks off season 3 of Stark Insider TV as our first guest, might be one of the few young culinary stars (the only?)  to conquer both the east and west coasts.
He honed his skills under the tutelage of some of New York's premier chefs, including Charlie Palmer at Aureole, Marta Pulini at Mad 61, and Rick Laakonen, before moving on to become executive chef at Cafeteria. Fortunately I was able to catch up with the tall, hug ready chef at Pebble Beach Food & Wine, where he was generously signing autographs for fans, and taking photo after photo without missing a beat.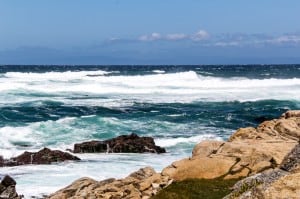 Many of you will likely recognize Tyler from the Food Network. When I was reviewing my notes and doing a bit of research prior to our brief encounter, I was surprised to learn he's been appearing on that network for 12-plus years! Somehow he's also found a way to publish some books (Stirring the Pot, Dinner at My Place), and open a new restaurant, the Wayfare Tavern.
"We didn't want to build a temple of gastronomy."
But why San Francisco? What got him to leave the Big Apple and head west?
Well, you'll have to watch this episode to discover  the savory details, plus I'm able to get the sound bite friendly guy reveal his favorite dish (hint: think Deep South).
Other friendly faces, spiky hairdos to make appearances in this video include Guy Fieri, Anne Burrell, and that maestro of cheese himself, Kent Torrey. Also that would be wine legend Chuck Wagner of the esteemed Caymus Vineyards on a panel moderated by Jon Bonné of the San Francisco Chronicle. Clint wrote about that luscious 8 vintage tasting here.
Check out those Lexus hot wheels. A tempting trade-in maybe… but I prefer it in Fieri yellow.
Bon Appetite!
(Don't forget to come back for a new SI TV episode every Thursday.)
Stark Insider TV: Tyler Florence at Pebble Beach Food & Wine