RIM took the wraps off the framework for its new interface today. Called Cascades, the sneak peek of the updated design revealed to developers at BlackBerry World featured colorful tiles, smooth gesture responses, and modern fonts with an overall pleasing aesthetic to match.
In a series of posts on the BlackBerry developer blog, the embattled company also announced WebWorks SDK (HTML5/CSS3), and a native SDK (APIs).
Developers in attendance all received a BlackBerry 10 Dev Alpha prototype as part of RIM's effort to seed the development community. "It's important to get this prototype into the hands of our partners now so that you can help us deliver the type of high-quality content that will make BlackBerry 10 so special," one blog post stated. The exuberance was spilling over, and manifested itself in many exclamation marks in the announcements by RIM staff: "Cascades is here!" with "Animations!"
This is a crucial week for RIM. Potential partners already have a lot of choice when it comes to choosing which mobile platforms to built out their businesses on. Apple iOS and Google Android clearly lead, with the latter recently making progress in the quality (Instagram) and quantity of apps available. With Windows Phone, Microsoft (in partnership with Nokia) could play a strong #3 though we won't know if the big Lumia push is paying off until the next quarterly results.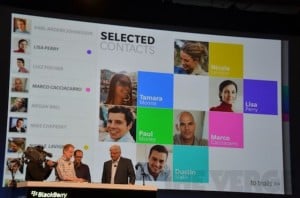 RIM will need to convince those in attendance (in addition to investors, customers) that there are still compelling reasons to invest in their ecosystem. Clues to the way forward may lie in the company's past. Traditionally strong with big businesses (RIM was the first to offer mobile email to the mainstream enterprise), the company would do well to play to its legacy, which includes proven integration with IT systems, robust security, and high performance.
My first reaction to the new BlackBerry 10 Cascades interface was drenched in deja vu. Who knew someone would dare to copy Microsoft?
Meanwhile the company's stock has taken a pounding. RIMM is down 71% y/y and down about 5% YTD. In January the board replaced Jim Balsillie and Mike Lazaridis with new CEO Thorsten Heins.
That aside, my first reaction to the early look at the new BB 10 Cascades interface was drenched in deja vu. Who knew someone would dare to copy Microsoft? There's an unmistakable Metro-like appearance. Tiles, splashes of color. Even the over-sized (and appealing) typography are reminiscent of the design metaphor we've seen on Windows Phone. None of this is necessarily a bad thing. Woz garnered plenty of headlines recently for calling Windows Phone and the Metro interface "beautiful."
Googling "BlackBerry Cascades" returned approximately 700 articles this morning. Not bad, and certainly far from a scientific way to measure interest, but it's definitely one barometer among many. If this had been an iOS update during an Apple keynote, the headlines would easily be 4x that number. Then again, we know Apple is an inexplicable force of tech.
If Google and Apple are big with consumers, then Microsoft and BlackBerry may do well to target the enterprise.