Pinterest is now the world's third largest social network (trailing only Facebook and Twitter). Apple has no social media play to speak of – their 2010 effort "Ping," an iTunes-centric network for music sharing and discovery, underwhelmed.
Are Apple and Pinterest a match made in social multimedia heaven?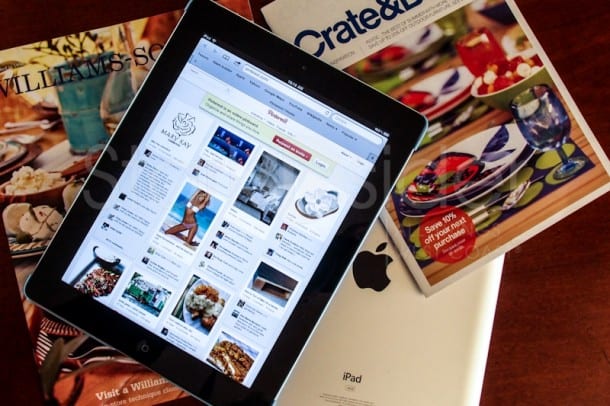 Twitter has long been a rumored target for Apple. It's a tantalizing proposition. Twitter has about 24 million U.S. users (Facebook has 133 million, per eMarketer). It's the go-to source for breaking news, and is enmeshed across marketing departments at companies big and small. Further, Twitter is a mobile play that would fit perfectly with Apple's increasing push into markets that capitalize on the mobile consumer lifestyle.
But the problem with Twitter is two-fold: (1) how to monetize… in a big way (many suggest its annual run rate is about $250M); and (2) how to integrate its capabilities into Apple's product lines in a way that strengthens the ecosystem and/or results in incremental software and hardware sales.
Enter Pinterest.
Founded just three years ago, this is a large, active social network. According to comScore Pinterest was the fastest site ever to break through the 10 million unique visitor mark. More importantly the potential to make money is huge. Because products, desire are two central themes among pins by users, there is a built-in inclination towards driving actions to sales. Browsing across pinboards feels analogous to flipping through a Restoration Hardware or Nordstrom catalog. Pinterest reportedly drives more referral traffic to retailers than LinkedIn, YouTube, and Google+ combined.
Better still is the visual nature of Pinterest and its aesthetically pleasing layout featuring large rectangular photos that lends itself well to devices such as iPad. Photo sharing is at unprecedented levels thanks to the rise of mobile devices with cameras now far better than yesteryear's point-and-shoots, and apps such as Instagram which make sharing them across multiple social networks easy (and fun).
The business model is ripe for the plucking. Think Groupon circa 2009, before that became an explosive category with over 500 copy-cats worldwide.
The feature fit appears ideal. Timing too – here in 2012 while there's still time to make inroads in social.
What if Apple were to create a new online retail market and integrate it with a transactional engine on the backend for retailers/wholesalers (Target, Nordstrom, Home Depot, you name it), and consumer apps via iTunes, including Pinterest, on the front?
Apple, no doubt because of Steve Jobs' fortuitous refusal to do things the conventional way, turned the physical retail computer store model on its ear. It did the same, of course, with music, movies. And "apps" are synonymous with Apple. The industry will hate it, resist it. Apple shareholders will love it.
Pinterest is clearly a massive, untapped market opportunity. Apple needs a social play.