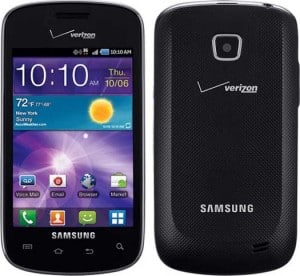 Prepaid plans appear to be gaining favor. Today, Verizon Wireless, no doubt in a bid to compete with similar offerings from  AT&T and T-Mobile, announced a new prepaid plan.
The plan should appeal to those not fond of commitment (I suspect there are many of you!). Typically, new smartphone purchases require two-year contracts.  Resulting predictable monthly revenue enables carriers to subsidize the handset (amortize) for far less than its actual cost.
The new plan features unlimited talk, text and 1GB of smartphone data, and comes into effect May 1. It will cost $80 per month and not require an annual contract.
According to the announcement, only the Samsung Illusion will be initially available under the new plan. The Illusion, which runs Android 2.3 (Gingberbread) and features a comparatively small 3.5-inch display, costs $169 and can be purchased direct, and also at Best Buy, Target, Radio Shack and Walmart retail stores.
In addition, Verizon announced the availability of a mobile wi-fit hot spot — Verizon Jetpack 4G LTE Mobile Hotspot MiFi 4510L — also available on a prepaid plans with rates as follows: $15 for 250 MB of data weekly, $60 for 3 GB of data monthly, $90 for 10 GB of data monthly.